Posted by Jonathan Maus (Publisher/Editor) on May 25th, 2012 at 11:44 am
A great sign for local biking and business.
(Photos by
The Lumberyard
and Josh Harvey)
The Lumberyard, an indoor bike park on NE 82nd Avenue in Portland, is now open for business. The new, privately-owned riding area swung open its doors to the public earlier this month. It's the first facility of its kind west of the Mississippi and will provide a much-needed riding opportunity for both Portlanders and visitors alike.
Lumberyard co-founders Will Heiberg and Michael Whitesel began renovating a former bowling alley across the street from Madison High School last fall. $3.5 million of redevelopment and countless hours of hard work later, they've transformed the space into a 48,000 square foot cycling Shangri-La. The facility includes jump lines, pump tracks, skill sections, and a "cross-country style" trail loop that winds between it all. Riders of all abilities will find something to love about the place, says Heiberg.

And if you aren't sure how to tackle this type of riding, Heiberg recommends a one of their many how-to clinics or summer camps for the younger ones.
When Bicycling Magazine named Portland the #1 Bike City in America, local mountain bikers bristled due to the lack of places for them to ride. Heiberg hopes The Lumberyard helps fill part of that void. "Portland has an active bike culture," says Heiberg, "but there is nothing for the mountain biker close to town and few options to ride during the rainy season."
Another reason Heiberg's bullish on his new business? He knows it will be a must-stop destination for the hordes of riders and bike industry types that constantly travel between Southern California and the mountain-biking mecca of Vancouver, B.C.. Watch for The Lumberyard to host lots of industry events, product launches, and magazine photo shoots.
The facility is being built out in three phases. Along with some great riding, phase one (which is completed) includes The Lumberyard's retail shop and event room for hosting parties and meetings. They also offer bikes, helmets, and protective pads for rent. By early July, phase two of the build-out will include a full restaurant, bar, and a riding area just made for kids up to six years old. The final phase will see the addition of a 20,000 square foot "barn" with 40-foot ceilings that will house advanced/expert features like a foam pit (to practice crazy jumps and flips), a downhill trail with rock gardens, drops, ramps, and more.
Here are a few photos from inside…
Bikes for rent…
A wider view showing parts of the pump track and jump area…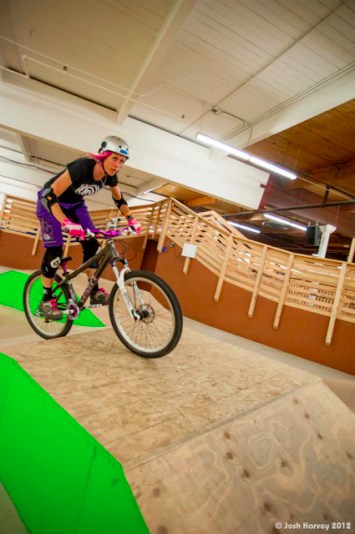 Welcome to The Lumberyard!
Help Will, Michael, and the rest of the Lumberyard crew celebrate this exciting opening with a big launch party on June 9th from 3:00 to 9:00 pm. There will be pro rider demos, vendor tents, food and drink, a kids ride, product showcase, prize raffle and more.
— The Lumberyard is located at 2700 NE 82nd Ave. Hours are Monday through Friday 4 – 10 pm and 11 am to to 10 pm on the weekends. Learn more at LumberyardMTB.com or like them on Facebook.