Curtis Williams in the window of his new work and retail space on SE 23rd Ave.
Curtis Williams has settled in nicely to his new studio and work space on SE 23rd Street, just off the busy bike corridor of SE Clinton Street. Over the past six months, the 29-year-old former theater lighting designer has seen his North St. Bags business expand from his basement to a mini-factory with six sewing machine work stations and a retail area.
Just two years ago at the 2009 BikeCraft show, I called Curtis one of the "surprise hits" (back then his company name was 3Bags). He was new to Portland and was just getting his feet wet making bike-oriented bags and backpacks. "Everything stemmed from that show," Williams said during a recent chat, "It's been a crazy ride since then…Seems like just yesterday I was working out of my basement."
Williams' new shop on 23rd is a big step up from his basement. Not only is it a lot larger, but now Williams has another seamstress working for him and he's been studying lean manufacturing methods to improve efficiency. A bag that used to take him six hours to make one year ago, for example, now takes just two-and-a-half hours.
That efficiency has helped him refine his most popular product, the Woodward Convertible — a backpack that doubles as a pannier bag. Last month he launched the Woodward as his first-ever production model, an announcement that came with a reduction in the retail price ($215) and a choice of four color schemes.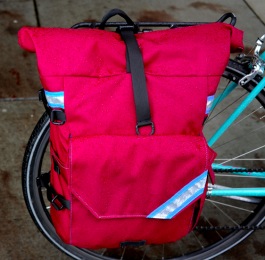 The Woodward Convertible
in bike mode.
(Photo: North St. Bags)
I had one of Williams' first Woodward bags two years ago and I've been using the latest one for a few weeks now. I'm impressed at how much it's evolved. The look is subdued but not boring, the materials (75% of which are sourced in the U.S.) are top notch, and it can do a lot of stuff. It's got a wide, roll-top opening, it's waterproof, it has a removable inner-liner and plenty pockets and straps on the outside.
"The Woodward really is my flagship model," says Williams, "It's also the reason I went into business… Because I couldn't find a bag like that for myself."
Williams' hard work seems to be paying off: He has sold as many bags just since the holidays as he sold in his first year-and-a-half in business. That steady sales growth, he says, has given him the confidence to "take on this bigger scale."
Also giving Williams confidence is Portland's strong and connected community of small manufacturers (just recently, Spooltown, a small-run sewing factory, launched in North Portland). He knows many other sewers and bag makers in town. "Just having that community of makers as a resource has been incredible… There's a lot of support and it's exciting to be a part of."
You can find North St. Bags at A Better Cycle (2324 SE Division), Crank (2725 SE Ash), and the Community Cycling Center (1700 NE Alberta). North St. is also a featured vendor on the new BikeCraft online store. Or, next time you're in the neighborhood, stop in at 2716 SE 23rd Ave and say hi.
If you have questions or feedback about this site or my work, feel free to contact me at @jonathan_maus on Twitter, via email at maus.jonathan@gmail.com, or phone/text at 503-706-8804. Also, if you read and appreciate this site, please become a supporter.