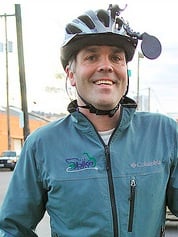 Shop owner Wakefield Gregg
set up the sting.
(Photo © J. Maus/BikePortland)
A bike stolen from The eBike Store on N. Vancouver and Alberta two years ago has been recovered thanks to some citizen sleuthing and a sting operation by the Beaverton Police Department.
The shop's owner, Wakefield Gregg, checks Craigslist for stolen bikes everyday. His persistence paid off on Friday when he saw a listing that looked very suspicious. It turns out that the bike, an eZee Sprint worth $2,000, was a limited edition aqua blue color. "It helps that the bike was one of 10 made in the aqua blue color, and was the only one imported to the Pacific Northwest," said Gregg.
Since the listing was in Beaverton, Gregg contacted the Beaverton PD to coordinate a meeting with the seller in the hopes of getting the bike back.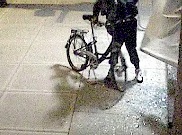 Security camera footage showing
the thief smashing and grabbing
the bike.
Gregg and shop employee Chad Keele set up a meeting on Saturday with the Craigslist poster. Two Beaverton PD officers accompanied them and hid in the bushes nearby while Keele took the bike on a test ride and verified its serial number. Once Keele was certain the bike was theirs, he signaled the cops and they moved in.
It turns out that the sellers of the bike weren't the original thieves. They bought from a garage sale about a year ago, Gregg says, and decided to sell it only after realizing they couldn't afford to replace the battery (it was stolen without one). In the end, Gregg gave them $150 for the bike, which is what they said they bought it for.
The Beaverton PD now hope that new information from the sellers will lead them to the thieves responsible for the smash-and-grab at The eBike Store back in 2010.
"My daily routine of checking Craigslist paid off," said Gregg, and he also has some advice for everyone who wants to increase their chances of recovering a stolen bike. "This whole process has reinforced to me the importance of writing down the serial number of bikes. If you have a bike stolen, it's impossible to recover it without it."