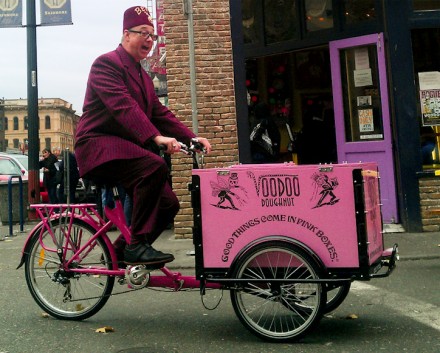 Voodoo's Kenneth "Cat Daddy" Pogson gives the new trike a try in front of his Old Town location.
(Photos: Ryan Hashagen)
Voodoo Doughnut, one of Portland's most beloved and well-known local businesses, has purchased a pedal-powered cargo-trike to market and sell their products. The trike's main cargo bin has been custom-painted to look like their giant pink doughnut box.
Pogson and an employee
(in the box).
The trike was purchased from Voodoo's Old Town neighbor, Icicle Tricycles. Icicle Tricycles owner Ryan Hashagen says the trike was originally destined for Voodoo's Eugene location, but after locals set eyes on it during a test ride around downtown Portland, Voodoo owner Kenneth "Cat Daddy" Pogson is having second thoughts…
"On the debut pedal, Cat Daddy hopped on and pedaled a big lap around downtown. People were hollering, waving, and photographing as he rolled the new trike in his Shriner's wedding suit," wrote Hashagen in an email to us.
Pogson was apparently so "blown away" by the local reaction to the trike that Hashagen says he might be convinced to keep one in Portland. "Everyone we rolled past was asking about local delivery, saying 'We live here and we don't want to stand in that long line!'" says Hashagen.
Current plans for the trike are to use it as a marketing and delivery vehicle for the Eugene location and to sell donuts on the campus of University of Oregon.
Sara Heise, "Executive Wrangler" for Voodoo, says they're "very excited" about the new trike. In an email to us she echoes Pogson's feelings that a trike like this could be in Portland's future:
"Bicycles are always a good way to go and we hope that seeing this pink bike will bring many smiles and happy stomaches. We do not have any plans in getting a bike here in Portland, but you never know what the future will bring."
The trike itself was designed by Hashagen, a man with decades of experience as a pedicab and bike-based business entrepreneur. His company operates a large fleet of ice-cream vending trikes in Portland. He recently started selling the trikes to others after fielding many sales inquiries. Hashagen has traveled the world studying bike vendors and has come up with what he feels is an update on the "tadpole-style" trike that is "safer, stronger, and more intuitive to use" than anything else on the market.
Hashagen is definitely onto something. He's sold his cargo trikes to customers such as Coca-Cola, Google, Vitamin Water, Umpqua Bank, and many others (see them all on the Portland Pedalworks photostream).
The Voodoo Doughnut trike has other local connections: Southeast Portland-based Class Act Powdercoating did the custom finish and Bike Punk printed the graphics.
Three cheers for doughnuts, local businesses, and cargo bikes!