In case you haven't heard, the central Oregon town of Bend has become a premiere bike town. As they proclaim on VisitBend.com, "No other town in America can boast 8 USA Cycling National Championships in 4 years!"
This weekend will only further Bend's reputation as they host the Day of the Dead Cyclocross Festival — three days of 'cross madness that will attract visitors from across the Pacific Northwest.

It all starts today with the Day of the Dead Cyclocross Super D downhill race. Yes, a downhill race on 'cross bikes. It's never been done before (at least in Bend) and the winner will be officially crowned the "Champion of the Universe". Not sure what to expect? Watch this…

Then tonight the attention turns to downtown and the Cross Culture Caminata. Our friend Lucas Freeman from the Bike Around Bend blog says, "It will bring art, traditions of the Day of the Dead, and cyclocross bicycles together." I'm sold. I'll be there.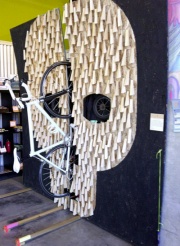 One of the pieces from
the Cross Culture show.
(Photo: Visit Bend)
Keeping with the bike inspired artisans theme, the Oregon Handmade Bicycle Show kicks off on Saturday. This will be the first time the event has been held outside of Portland. The show promises 40 bicycle builders who will display their finest work and be available for questions from fans.
The other main event will be cyclocross races on Saturday and Sunday — both of which are part of the popular Cross Crusade series. Sunday's race will be the infamous Halloween costume edition of the Crusade. This year a "Best Costume" award will be handed out in each category (with the winner getting a long-sleeve Rapha jersey).
On Saturday night, the Crusades' beer sponsor Deschutes Brewery will host a huge party in their warehouse.
And that's just some of the fun to be had in Bend this weekend! For a full calendar of events, check out Bike Around Bend or VisitBend.com.
Oh, and stay tuned for photos and other coverage. I'm headed over to Bend later today.