Posted by Jonathan Maus (Publisher/Editor) on October 20th, 2011 at 3:20 pm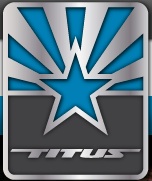 Yet another company in the bicycle industry has decided to open up shop in Portland.
Planet X, a company based in the UK that owns several bike brands, has moved its North American headquarters to Northeast Portland. Planet X bought Titus Bikes in late 2010 and they also own the On One brand and are the exclusive North American distributors of Guerciotti. According to Rick Kirton, the company's US sales and marketing manager, they plan to open up a showroom later this month at 57 NE Hancock.

Titus is known for their high-end, U.S. made, titanium mountain bikes. Founded in 1991, the company was originally based in Tempe, Arizona. They went bankrupt in November 2010 and Planet X acquired them in an auction shortly thereafter. On One is known for their singlespeed mountain bikes and urban fixed gear road bikes. Guerciotti is an old Italian road bike brand.
Kirton says Planet X USA will have a full line on urban/city/road and mountain bikes on display at their new showroom. They'll also use their Portland headquarters to distribute all Titus, On One and Guerciotti bikes in the U.S. In addition to Kirton, the company's team in Portland includes Michael Golinski, the creator of the popular singlespeed brand Spot, and tech support staffer Shiggy Person.
In a story in Bicycle Retailer magazine in August, the head of Titus for Planet X Brand Richards said the company plans to "keep Titus true to its roots" and retain USA production. No word yet whether or not that production will be done locally.
Stay tuned for more details and photos from the showroom once it opens up.