Aftermath of a collision
on SW Canyon Road this
morning.
(Photo: Beaverton PD)
A collision this morning in Beaverton at around 8:30 am sent a woman to the hospital with what police describe as possible head injuries.
The collision occured at the intersection of SW Canyon Road and SW 110th (map).
A Beaverton Police Department statement said that witnesses saw a woman who on the bike was "down and unconscious" following the collision. The operator of the car was traveling eastbound on SW Canyon. The bicycle operator was going west. When the car turned left (north) onto 110th, "she impacted the passenger side of the the car, as it turned."
Google Streetview looking eastbound on SW Canyon.
As commenters below have noted, the direction the woman on the bicycle was headed is downhill, which means she might have been traveling faster than the operator of the car expected. Also worth noting is the presence of the sunrise and potential for sun glare.
Police say the person operating the car was "sitting nearby visibly shaking from the trauma" and that the woman she collided with, a 20 year old, had been wearing a helmet. She was sent to a hospital and is in stable condition.
No alcohol or drugs are suspected and the Beaverton PD Crash Analysis Reconstruction Team (CART) are doing an investigation.
Here are more photos from the Beaverton PD: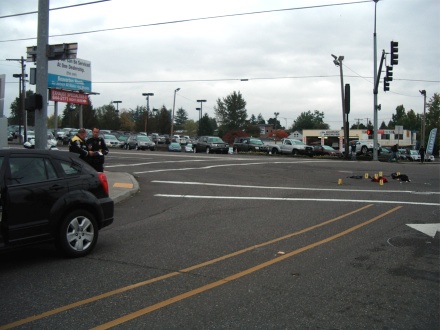 UPDATE, 3:28 pm: Beaverton PD has released names of both people involved:
The driver of the Dodge Caliber is 40 year old Howard Hagge of Portland and the bicyclist is Yulia Shutman (20), also from Portland. She remains in stable condition and has family flying in from out of state.
No criminal charges will be filed, but the investigation into possible traffic citations is ongoing.
UPDATE, 4:01 pm: Beaverton PD now says that Ms. Shutman is listed in serious condition at Legacy Emanuel Hospital. (They initially reported that she was in stable condition.)
Contact Jonathan at @jonathan_maus on Twitter, via email at maus.jonathan@gmail.com, or phone/text at 503-706-8804. Also, if you read and appreciate this site, please become a supporter.