You can race 'cross on
nearly any bike; but these
tips will help your conversion
work better.
(Photos © J. Maus)
As fall approaches it's time to start dreaming of the thrill of mud, cowbells, Belgium fries and waffles and hundreds of people cheering for you as you ride your way through cyclocross season.
Whether you're toying with testing the race field for the first time, or you're heading back as a dedicated mud junkie, this is a simple guide to get — and keep — you rolling.
First, a little 'cross background for the uninitiated. Cyclocross is a style of bike racing on a 1-2 mile dirt/gravel/mud/sand/snow/ice/pavement course for about 45 minutes. Part of the race is dismounting your bike and hopping over foot-high barriers, lifting your bike over them and re-mounting your bike as smoothly as possible. (Think of when you were a kid racing your friends around the block, make it partially off-road and add a small obstacle course and you're in the ballpark. Oh. And there are usually lots of spectators the whole way around the course clapping, yelling and ringing cowbells to cheer you on.)
Choosing Your Weapon
Note: No matter which bike you pick, make sure it has fresh brake pads and is tuned for racing before you go. If you raced on it repeatedly last season, it will most likely need all new cables and possibly a few new bearings. Tune-up before you throw down!
Cross Bike — A cyclocross bike is a type of road bike with some frame modifications. It has regular road drop bars and 700c road sized wheels, but with a wider (32+mm), knobby tire for better traction. There is more space between the wheels and frame, and brakes are usually cantilever or disc—all for plenty of clearance for shedding mud and grass. The bottom bracket (where the cranks go into the frame) is positioned higher to make it easier to get over barriers and turn in tight corners. The gearing is also set up lower—or easier to pedal—than traditional road bikes. There are no water bottle cages as they would interfere with carrying your bike (besides, you really won't have time to drink).
Pros: It's a bicycle well designed for the job and you can use it in the off-season for cycle touring or commuting since they easily can fit fenders. It's also much lighter than other options.
Cons: A bike like this can be cost prohibitive. Not always the best choice if you're just dabbling and not sure 'cross is the event for you.
—
Touring Bike — If you already have a bike that is made for touring, it has both clearance and cantilever brakes. Touring bikes are generally heavier, have more gears and lower bottom brackets than cross bikes. To convert a touring bike to a cross bike, just install a set of cyclocross tires and remove any seat bags, racks, water bottle cages or frame pumps.
Pros: Very similar to a cross bike. I raced my first two seasons on one and had a blast. It's the next best choice to a cross bike since it has a road wheel size and is inexpensive to convert.
Cons: Not as light as a cross bike and doesn't steer as well.
—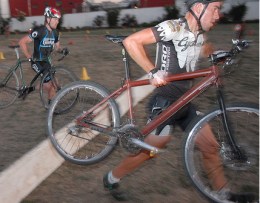 Mountain Bike — Mountain bikes can be easily converted to work well for cyclocross. While any kind of bike is allowed to race, bikes with suspension have a lot of extra weight (which slows you down) and the courses are not rough enough to justify needing it. If you don't have rear suspension you can change out your fork and make your bike fully rigid, which will make it lighter. It's also fairly easy to find an old, fully rigid bike used. The rules state that you can't have bar ends, so remove those if you have them. To convert for cross, install some narrower tires (1.25" are the best) with lower profile knobs than you'd normally want for mountain biking.
Pros: If you already have an off-road bike, it's inexpensive and easy to convert. If you don't, it not hard to find a cheap one or borrow a friend's and buy some new tires for it. Plus you'll be building your bike handling skills and fitness for next season. It's a wonderful choice for the beginner.
Cons: It's a bit heavier (ie-slower) and harder to carry over the barriers — but the "pro" of that is you'll generally get more cheers for working harder!
—
Road Bike — It's possible to race a road bike on a cyclocross course, but only if the course is completely dry and lacking any sand or gravel. Even then you'll be compromising traction since traditional road bikes don't have room in the frame or brakes for bigger, knobby tires that can absorb the bumps and help you stay upright in corners. There is no room on a traditional road bike for mud to clear out, so if there's even one puddle, your wheels may come to a halt before the race is over.
Pros: You may already have one and the other options don't seem feasible.
Cons: There aren't many races in Oregon that don't have mud, sand or gravel. You may be wasting your money if you can't finish a race because your bike is clogged with mud or you keep slipping (or worse yet, fall) in the sand or gravel.
—
Bonus Quick Tips for After Your Race
Cyclocross is super fun — but very hard on your frame, bearings and components. Here are some quick tips for after your race:
Clean your bike as soon as you can after every race. A bucket of soapy dish water, a big sea sponge and a very light spray of hose can go a long way.
Lubricate your chain and pivot points of your derailleurs after every cleaning.
If you wash your bike with a hose, let it sit upright and drain out before you hang it by the front wheel.
Though it maybe tempting, never use a pressure washer or high-pressure garden hose to clean your bike. It only forces water and dirt into the most expensive parts of your bike—the bearings—and will add to your maintenance expense later down the road.
— Stay tuned for more cyclocross how-to articles from Tori Bortman. Read her past BikePortland articles here.