— Story and photos by Official BikePortland Interbike Correspondent Carl Larson
Downstairs at Interbike (the annual bike industry trade show happening right now in Las Vegas) is no-man's land. If you want to see Specialized's new bikes, meet with an Italian clothing maker, get a poster signed by a famous racer, or check in with major manufacturers and distributors, upstairs is the place to be.
If you want to visit the "Health and Fitness expo" (read: treadmills) or explore the vast emptiness of the E-bike test track, downstairs is your spot. I'd bet that at least half of all show goers never venture down to Interbike's lower level and, if they do, they don't spend long. This year, that's their loss.
Three reasons:
Portland Design Works' Circulus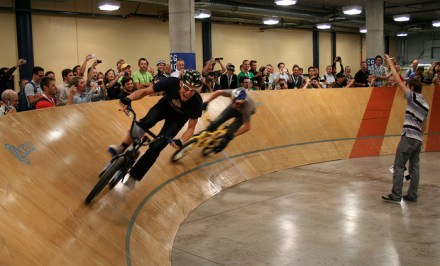 It might've been downstairs, but PDW's beloved modular mini-velodrome, has been the talk-of-the-show. Yesterday, cyclocross allstars Tim Johnson and Jeremy Powers went head-to-head for a Rapha-promoted "Vengence in Vegas" best of three. Laps were around 10 seconds and Johnson won two to take home the glory. That's not to say Powers didn't try. Here's a video taken by the guy standing next to me (check out :34 where Powers nearly launches himself through our heads and out onto somewhere on the e-bike test track)…

As you can see, there was a crowd and they loved it. Circulus has been a win-win for Interbike and PDW. The trade show got major cool-points for doing something fun and PDW got great exposure.
It came as a surprise last night to hear that the Circulus, which PDW bought off a college student who built it as a school project, is moving to yet another home. It's being handed off to Quality Bicycle Parts (QBP), the largest bicycle parts and accessories distributor in the bicycling industry. Based on the outskirts of Minneapolis, QBP owns Surly, Civia, Salsa, and AllCity.
"We've gotten more than we could possibly imagine from it," said Dan Powell, co-founder of Portland Design Works. From Las Vegas, it will be packed up into a 24′ rental truck and driven to QBP's Utah warehouse. Powell isn't sure how it will be used but he's confident that QBP will make the most of it.
Momentum Fashion Show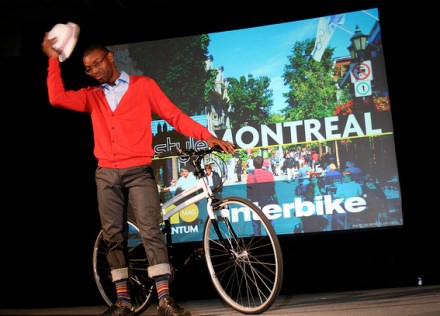 One depressing food court away from the Circulus is the site of Momentum Magazine's Fashion Show. With multiple events throughout the show and a bigger, louder presence, Momentum, like Portland Design Works, has taken a fun idea, sold Interbike on letting them make it real, and built tremendous buzz around it.
Now in its forth year, the bikes and clothes on display in Momentum's fashion show seem less like a fringe market. The floor was packed, the music was thumping, and flashes were going off everywhere. Outfits and bikes were loosely organized around bikey cities like Montreal, Minneapolis, DC, Miami Beach, and "the east coast's next big bike city," Boston and each city had an associated fact. Portland's was, "There are 3 bike shops in Portland dedicated to cargo bikes." I'll let my (shoddy) pictures speak for themselves.
Beetle Kill Pine bikes and other interesting things
A Colorado family going by the name "Leap Year Industries" has created "The Beetle balance bike," a drivetrain-less "scoot"-style bike with a frame built entirely out of salvaged pine trees killed by Mountain Pine Beetles. With its Skyway wheels and AME grips, this might be one of the most American-made bikes at the show. At $250 retail, they're certainly not cheap but at this show you could find pedals that cost more.
Then there's the cowbell.com ladies selling custom cowbells for race fans. I'm pretty sure that 10 years ago, people would be baffled by a cowbell booth at Interbike. As the cyclocross cheering instrument of choice, though, it makes perfect sense as 'cross continues to skyrocket in popularity.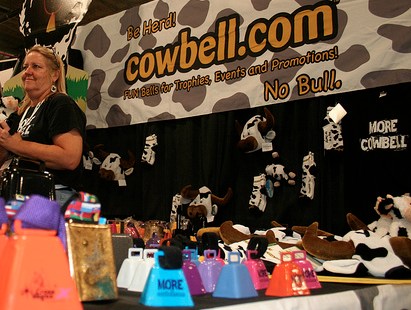 Then there was this "bike cave." It's a tent for your bike…
Own a bike-friendly business? You need this public tire-inflation station (how about some of these near bike corrals?):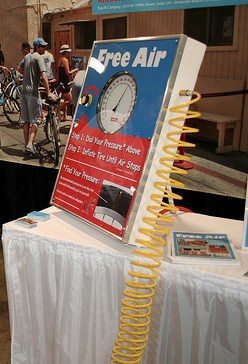 Hope you enjoyed this mini-tour of the oft-forgotten under-belly of Interbike. Stay tuned for more photos and dispatches from the main show floor.