Posted by Jonathan Maus (Publisher/Editor) on September 7th, 2011 at 9:20 am
Several noteworthy bits of active transportation news from Washington County have come across my desk lately. The Board of Commissioners passed an important funding ordinance last night, an effort to improve the crossing of the Fanno Creek Trail at Hall Blvd is underway, and the small town of North Plains has unveiled plans for several paved biking and walking paths.
Learn more in the brief recaps below.
Amended Ordinance Gives County Board Authority to Invest in Complete Streets
"This ordinance is a step forward."
— Dick Schouten, County Commissioner
In a 5-0 vote last night, the Washington County Board of Commissioners passed an amendment to the "Urban Road Maintenance District Ordinance." The amendment gives the Board the ability to use taxpayer money previously slotted solely for road maintenance for "safety improvements."
The amendment was passed in part because the head of road maintenance for the County testified that the region currently "enjoys very good road conditions."
Commissioner Dick Schouten says they'll now spend an estimated $10-12 million additional dollars over the next 10 years for on bicycling and walking-specific projects in urban, unincorporated Washington County. "This ordinance is a step forward," wrote Schouten via email yesterday.
The "expansion of services" that the road tax can now pay for include: "sidewalks and pedestrian paths; bike lanes and paths; shoulder widening; installation of safety markings, devices, signals."'
New Crossing in the Works for Fanno Creek Trail at Hall Blvd.
One of the most egregiously poor crossings on the popular Fanno Creek Trail is finally slated to be fixed. Where the trail meets Hall Blvd, users are told to walk 800 feet out of their way to cross at the closest signalized intersection. Of course most people ignore the suggestion and attempt to cross wide and fast Hall Blvd instead.
The Tualatin Hills Park & Recreation District (THPRD), the City of Beaverton and the Oregon Department of Transportation (ODOT) have come up with 4 potential solutions: an at-grade crossing; a bridge over Hall; a tunnel under Hall; or a new signalized crossing. To garner public input on the 4 options, there's a public open house on September 21st at the Conestoga Recreation Center. Visit FannoCrossingHall.org for more details.
New Biking and Walking Paths in the Works in North Plains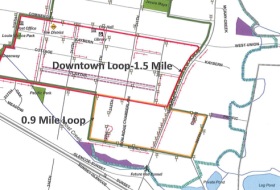 As reported by The Oregonian last month, the small town of North Plains is looking to green-light about 6.5 miles of new off-street, paved paths. According to their Community Trails Master Plan (PDF) document, the community "envisions an eventual city-wide (approximately 10 miles) trail network around town that encompasses on-street, sidewalk, and greenway paths."
—
Want more bike news from Washington County? Browse the BikePortland archives.