View of SE Division where a fatal collision occurred last week. Note SE 87th in the upper left hand corner.
Last week's tragic and senseless hit-and-run that led to the death of Dustin Finney is another reminder that there is little margin for error between bikes and cars on many Portland streets — especially large arterials like SE Division.
The sad irony is that the Portland Bureau of Transportation (PBOT) is just about to begin construction of a physically separated cycle-track at the exact location where Friday's collision occurred.
On Friday morning just before 1:00 am, Dustin Finney was riding eastbound on SE Division, just east of the intersection with SE 85th when he was hit from behind by 18-year old Ashawntae Rosemon.
According to Kevin Phomma, who was riding in front of Finney yet was not seriously injured, the crash happened midblock between SE 85th and SE 87th — a stretch of Division slated for a two-way cycle-track as part of a neighborhood greenway project.
As I reported back in June (and PBOT has reconfirmed for this story), construction on the SE-NE 86th & 87th Avenue neighborhood greenway is slated to begin this summer. The project is intended to create three miles of family-friendly, low-stress, north-south bikeways from I-84 to just south of SE Powell. The route takes SE 85th to Division, then jogs on Division to SE 87th. To get bike traffic safely across the five lanes of high-speed traffic on Division, PBOT will build a two-way cycle-track (similar to the one on NE Going) on the south side of the street between 85th and 87th — right where Friday's collision occurred.
Here's the PBOT concept drawing…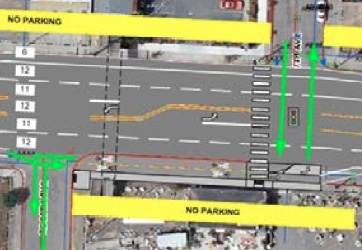 Note the cycle-track in the center of the lower third of the drawing (above the yellow "No Parking" label).
It's unknown where exactly Dustin Finney was riding to that night. He lived on SE 122nd (the arterial which claimed Portland's last bike-riding traffic fatality in August 2009) and Holgate. He could have been riding to the I-205 multi-use path. That path would have taken him south to Holgate. Once on Holgate, he'd be able to ride on buffered bike lanes, which PBOT installed to improve safety and create more separation between cars and bikes.
Would more separation on Division have made Friday's collision less likely? What if Ashawntae Rosemon, who is suspected of DUII, hit a curb first and was able to correct his steering and avoid the collision?
We'll never know the answers to those questions; but anything to make arterials safer for bicycling can't happen soon enough.