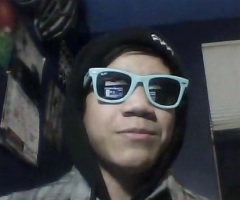 Kevin Phomma (as seen in Vimeo video)
The two people on bikes involved in a fatal hit-and-run collision early this morning did not know each other. One of the two was 17-year old Portlander Kevin Phomma. Phomma was riding in front of the man who was killed, and, after the collision, he flagged down a passing Portland Police officer.
Phomma is an avid rider who is active on the PDXFixed online community, worked as an intern at 21st Avenue Bicycles, and is the youngest member of Team Trusty Switchblade.
Phomma left a comment on BikePortland about the collision a few minutes ago (emphasis mine):
"Hey Jonathan, so about the second cyclist..really not a serious injury. Actually I sustained very little injury, just a few bumps and bruises. This was far from your general weaving in and out of the bike lane. The SUV essentially came directly into the bike lane, struck the cyclist behind me at full force which catapulted him several feet in front of me.. I was just clipped and just knocked down, I quickly got up, and saw the damage of what had just happened. They did take to me the hospital for a checkover and I was released later that night, now I'm just really sore. This is just too tragic."
Booking photo of
Ashawntae Rosemon
The man who died after being hit has been identified by KOIN-TV as 28-year old Portland Community College student Dustin Finney. The Police have also arrested a suspect who they think was operating the motor vehicle.
18-year-old Ashawntae Rosemon has been charged with Manslaughter in the second degree, DUII, Failing to Perform the Duties of a Driver, Vehicle Assault of a Pedestrian and Reckless Driving. Rosemon was booked into the Multnomah County Detention Center and is being held on $272,500 bail.
The investigation is ongoing and anyone with information about this incident is asked to contact Officer Eric Koppang at 503-823-2216 or via email Erik.Koppang@portlandoregon.gov.
UPDATE: The man killed was named Dustin Finney.