Publisher's note: This article was written by Tori Bortman. In the coming weeks, Tori will help you Optimize Your Ride by sharing her bike repair tips, tricks and perspectives.
Today's topic: the chain.
The chain is one of the easiest parts to maintain on your bike; but for some reason, it's also the most neglected. Maybe some of you are intimidated by chain-tenance? Don't be. Here's all you need to know…
Choose a good lube. Look for one that's not too thick or thin, preferably with a solvent mixed in. My favorite is A.T.B. Lube (which stands for Absolutely The Best). I'm a fan because I want maintenance on my bike to take as little time as possible. Go ahead. Call me lazy (I prefer "efficient").

You don't need a bike repair stand! Just flip your ride over so it's resting on the seat and handlebars and the chain can move freely. Look at the chain as a big loop with an outside surface (the top) and inside surface (the bottom). Grab your pedal, hold the lube bottle and squeeze gently while pedaling for 4-6 rotations (It's OK if you don't hit every link). How fast? Sing (out loud if you'd like) "Mary Had A Little Lamb," pedal to the beat and you'll be in the ball park. The lube will spread itself out and you're hitting both sides of the chain. This should take about 30 seconds to a minute.
Just like your stove-top, oily surfaces collect dirt; so make sure to wipe the chain down. Wrap a cloth around the rectangular outer surface of the chain. Grab a pedal for stability and rub a 4-inch section (top and bottom, side and side) until it's squeaky clean and no more dirt will come off the chain before moving on to the next section. This might take up to 30 seconds per section you grab. That's right—this will take you 5 minutes longer than oiling, but will leave your chain turning more easily and it will keep your frame and wheels from being sprayed with lube and your pant leg clean all in one go. (Bonus: If you do this correctly, you won't need to clean your chain of old dirt and debris before you lube it the next time.)
You most likely will need to clean the chain before you oil it the first time. This is also good to do a few times in the life of the chain or if you often ride in mud or grime. Find a good degreaser (e.g. – Simple Green, 409 or Citrisolve) that can cut through the old grease and grime. You can use a fancy chain cleaner contraption available at your local bike store or go for the simpler "scrub with an old used toothbrush" technique. If your chain is incredibly dirty, you can try WD-40 (Caution! This is a great cleaner but a horrible lubricant and is very strong, so use judiciously by spraying on a rag or brush instead of on the chain directly). With any of these you'll want to wait at least 24 hours before applying your lubricant, otherwise the degreaser left behind will break down the new oil you apply.
This whole routine shouldn't take long but can extend the life of your chain. Most chains have a life span of 1,500 to 2,000 miles depending on your weight, riding technique and the amount of hills you encounter regularly—and of course how often you lube the chain.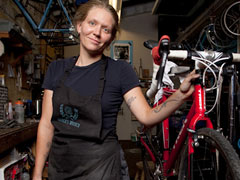 Tori Bortman
It's important to have a mechanic check the chain wear occasionally. If you let it go, you'll have to change the cassette (the rear gears) as well, which can add another $60 – $100 to the cost of a new chain. Not good. The cassette will last through 2-4 new chains if you make sure you lube and check the chain regularly, and that makes for a smooth, fast, and quiet ride into the spring breeze.
— Tori Bortman is the owner of Portland-based Gracie's Wrench, a business that offers individual and group bike repair classes tailored to your needs. Column sponsorship is available. Please contact info[at]bikeportland[dot]org.