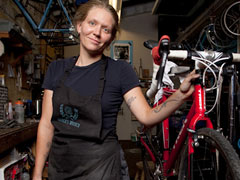 Our optimization specialist
Tori Bortman is here to help you
gain confidence in patching tubes.
(Photos: Daniel Sharp)
Most folks don't like to patch tubes for many reasons: "It takes too long," "it never holds," or "I just carry a new tube." Carrying an extra tube will only get you through one flat per ride, and occasionally the new tube will fail. I'm always a fan of carrying a patch kit — and knowing how to use it can make the repair quick, easy and practically pain free.
A standard patch kit comes with three things: a patch, some "glue," and a small piece of emery cloth. All of these are of equal importance in the success of the patch holding. More on this—and pre-glued patches—later.
A properly patched flat is as reliable as a new tube! Even if you don't patch on the road, bring your bum tube home and repair it for the next ride. Ready? Here we go…