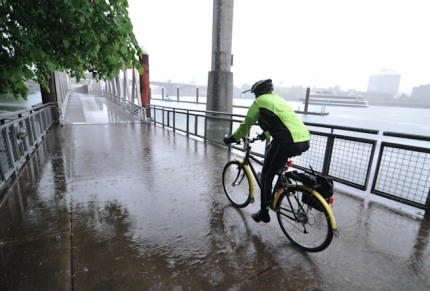 Record snowpack on Mt. Hood and significant and steady rainfall all year has led to a flood warning for the Columbia River. Closer to downtown Portland, the Willamette isn't nearing flood level, but it's much higher than usual. For those of us riding bikes on the Eastbank Esplanade and the Steel Bridge, the high water is hard to miss.
Check out how close it is to the lower deck of the Steel…
The floating dock portion of the Esplanade (just south of the Steel Bridge) is nearly flat…
Riding southbound, instead of a downhill onto the dock, I actually had to pedal up a few strokes. Here's the view looking northbound from the floating dock toward the ramps (which are usually going downhill)…
Another thing you might want to keep in mind for your ride home tonight is that the Steel Bridge is being raised very frequently due to the high water. The lifts are causing the bridge operator to yell and get frustrated with people who aren't heedling lift warnings. I saw a relatively small private boat trigger a bridge lift a few minutes ago… (To avoid the hassle, I recommend taking the main, upper deck of the bridge.)
Here's to hoping the rain lets up for the evening commute. If for no other reason than to improve this guy's mood…
What else are you seeing out there? Does anyone have a report on the Marine Drive path along the Columbia River? Is it in danger of being submerged completely?