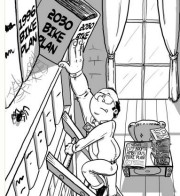 Time to get it off the shelf.
(Illustration: Mark Markovich)
I just returned from an open house for the Lloyd District Bikeway projects. Unfortunately, my hunches about the direction each of them is headed have been confirmed.
At this point, I think it's time to take the Portland Bicycle Plan for 2030 off the shelf and give it a re-read.
After a presentation by the project team at the open house today, Craig Harlow, speaking as a member of the Lloyd TMA Bike Committee (he's also a member of the Stakeholder Advisory Committee), shared some closing remarks. Here's what he said:
"The project team (PBOT and Alta consultant) gave you their impartial, official perspective, now I want to make a very partial, very biased plea.

Whether you cycle into the district, or walk, or whether your care about the safety and comfort of people who do that, I'd like to let you know that all three of the projects are, right now, at risk of totally flopping because the commercial interests that have now leveled objections to parking removal on Holladay, to making any changes to Vancouver, to making any changes to 12th…

If their voices prevail, than one or all of these projects won't happen and there won't be any improvements for bikes in and through the district and that's a real risk. In fact, that seems to be the most likely case right now.

The reason the [Lloyd TMA] Bike Committee brought this [open house] to you to is because we're looking for more voices to come in and support these projects and so the City can hear from more than just the large commercial interests about what's important to people who live, work and use the transportation facilities here in the Lloyd District."
I think Harlow's plea makes it clear: We are in a situation with these Lloyd projects (and to some extent the Williams project), where the lofty rhetoric and goals adopted in our much-heralded Bicycle Plan for 2030 are at risk of becoming irrelevant.
One of the things I was most excited we were able to get into the Plan was the "Green Transportation Hierarchy." Here it is as it appears on page 21:
And here's the language in the Plan that backs it up:
"2.1.4 Putting green transportation first:

… Despite significant increases in bicycle transportation, it remains inaccessible as a realistic, primary means of personal mobility for most residents. More investment is needed to prioritize green transportation modes, such as bicycling, to attain a more balanced and sustainable transportation system. Systemic change at every level, from planning and zoning to the reallocation of the right-of-way, will be required…

Building a sustainable, efficient city that is vibrant, healthy and prosperous will require further elevating green transportation – those transportation modes that have the least environmental impact and greatest contribution to livability."
It sure sounds great, but it means nothing if we don't live up to it. After thinking about and covering these projects lately, I re-worked the pyramid and came up with one that I feel better reflects the current reality…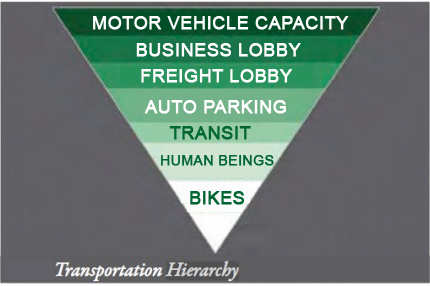 One of the phrases I love in the Plan is that bicycling is (or should be considered), "a fundamental pillar of Portland's transportation system."
Maybe it's just me, but my vision of "fundamental pillars" are things that aren't easy to push around.
The easy projects have all been done. The sit-back-and-rest-on-our-laurels phase is officially over. We've got to push and work to make these projects right. There's still time to turn things around… Get involved! Share your input (links to PDF of comment form)! Contact the Mayor!
This is Portland. If it can't happen here, the transportation future of our entire country looks very dim.