Posted by Jonathan Maus (Publisher/Editor) on April 27th, 2011 at 10:00 am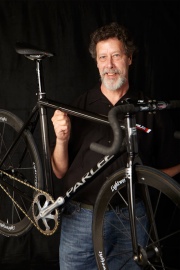 Framebuilding legend Bob Parlee
will be in Portland Friday night.
(Photo: Parlee Bicycles)
I'm always trying to tell people that you can't measure a city's bike-friendliness by bike lanes and politics alone. Here in Portland, what makes our city a special place for bike lovers is the depth and breadth of culture that surrounds bicycling.
Case in point are these three events — all of which are happening this Friday night…
In-Studio with Bob Parlee at Portland Bicycle Studio, 5:00-8:00pm
Portland Bicycle Studio has become an authorized Parlee Bicycles dealer and they're hosting a party Friday night with founder Bob Parlee as the special guest. Parlee will give a talk on carbon fiber and bicycle construction, and there will be a Q & A session. Drinks and treats will be served and attendees can get special introductory pricing on a custom Parlee of their own. Learn more here and RSVP via Facebook.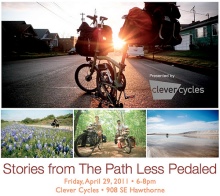 Event flyer by Russ Roca
Stories from The Path Less Pedaled, 6:00-8:00pm
As we've shared recently, current Portland residents and noted bicycle tourers Russ Roca and Laura Crawford are planning another big excursion. Before they leave, you'll get a great chance to learn about their past adventures and future plans to "redefine the All-American road trip" at a presentation at Clever Cycles (908 SE Hawthorne). Learn more here.
(Photo: CCC)
Community Cycling Center Shop Warming Party, 7:30-9:00 pm
Beloved local non-profit, the CCC, has expanded into a space adjacent to their existing retail shop at NE 17th and Alberta. "We're so happy about our new look," the say, "all we want to do is party down." Join them for free tamales and horchata, a DJ, and 15% off all new bike parts and accessories. Learn more here.

Which one will you choose? Extra points if you manage all three ;-).