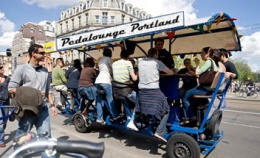 Get ready Portland!
From tall-bikes to cargo-trikes, Portland is full of interesting, pedal-powered vehicles. Now you can add a party bike (or "cycle pub" as they're sometimes known) to that list.
55-year old Northeast Portland resident John Boblett says he'll start taking reservations for his "Pedalounge" 14-person-powered bike in the next few weeks. Boblett, a former bartender and FedEx truck driver will captain the contraption (and I must say, those are perfect qualifications), which he purchased in Amsterdam.

"I thought, why isn't there one in Portland? With our love of beer and bicycles, it's such a natural."
— John Boblett, owner of Pedalounge
The Pedalounge will have room for 12 pedalers and two other passengers. Boblett will be at the helm to steer it, while others are free to chat and take in the sites. When it launches in early May, Portland's Pedalounge won't serve beer, but Boblett hopes that feature will be coming soon (once Oregon's liquor regulations/laws get ironed).
Boblett, a native of Minneapolis, Minnesota, says he saw a party bikes for the first time two years ago. "I thought, why isn't there one in Portland? With our love of beer and bicycles, it's such a natural."
Party bikes are spreading throughout the U.S.. Boblett says successful businesses have been created with them in Minneapolis, Chicago, Denver, Austin, Houston, and even in the central Oregon city of Bend.
Boblett says he'd eventually like to have 3-4 party bikes. He plans to offer two-hour "tours" where people sign up and get steered to local sights, stopping for drinks and photo-ops along the way. Prices for a two-hour tour will range from $310 to $350, depending on the day. "The more people, the cheaper the ride is!" says Boblett.
Boblett says he's still working out the legal issues before he can serve beer on the bike. In Bend, the Cycle Pub has apparently received special sign-off from the Mayor, Police Chief, and City Attorney to dispense beer on the bike. In addition to chatting and drinking, Boblett will have a sound system so customers can hook up their iPods and rock out while they pedal through the city.
Learn more at Pedalounge.com.
If you have questions or feedback about this site or my work, feel free to contact me at @jonathan_maus on Twitter, via email at maus.jonathan@gmail.com, or phone/text at 503-706-8804. Also, if you read and appreciate this site, please become a supporter.