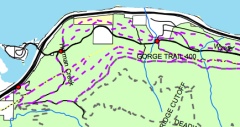 Some of the proposed trails.
– Download larger map
here
–
It's still a drive from Portland, but as far as I'm concerned, any new mountain bike trails in our region are worth celebrating and supporting. It's with that in mind that I share news of the Cascade Locks International Mountain Bike (CLIMB) Trails System. This project, in the works since 2007, includes a plan for 25 miles of MTB trails that would be developed as a major tourism draw for Hood River County and the city of Cascade Locks. Here's more from a fact sheet on the project:
"Due to the substantial demand for trails closer to Portland, Oregon, a destination mountain bike and mix-use trail system open to equestrians and hikers will contribute significantly to the diversity of the tourism industry in Cascade Locks."
Cascade Locks is about 42 miles east of Portland (just under an hour drive) up the Columbia River Gorge. According to the Port of Cascade Locks website, trail designers from IMBA and Alta Planning are already on board with the project and a funding effort has raised $1.5 million thanks to the Port of Cascade Locks, City of Cascade Locks and Hood River County.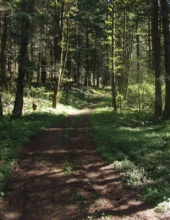 Looks nice huh?
(Photo: CLIMB)
"This project has the potential of being the best trail destination in the Pacific Northwest and draw visitors from across America and abroad," states the CLIMB website.
While construction of any new trails is still about 1-2 years away, now is the time to learn about the project, offer support, and get involved to make sure it turns out as awesome as possible. If the success and popularity of the Sandy Ridge Trail network is any indication, more new trails in the Gorge will be a big win for everyone involved.
Download a fact sheet, conceptual trail plan, and more on the Port's website. You can also stay in touch with the effort via the Cascade Locks MTB Trail Facebook page.