Posted by Jonathan Maus (Publisher/Editor) on February 24th, 2011 at 8:17 am
Reader Bill Alsup snapped this photo of the railroad tracks near SW 5th Street and the 217 overpass in Beaverton.

Good morning folks! I'm in Austin getting ready for NAHBS, but I hear that some white stuff fell on the ground in Portland this morning.
How bad is it? Will you survive?! Are you still going to ride into work (I hope so)? What's the weather like in your neck of the woods?
Reader Charles R. sent in this photo from last night
on the trail adjacent to North Portland Road.
As you can see from the photo on the right, conditions seem to be a bit tricky out there. From what I've heard, snow was most abundant in the West Hills and North Portland. Learn about the latest conditions at PublicAlerts.org.
Use this post to update your fellow BikePortlanders about the conditions throughout the city.
Here's another reader photo of the north side of the Hawthorne Bridge…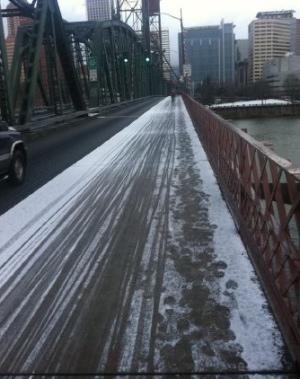 — Not that you asked, but it's 70s and cloudy/humid here in Austin!