Posted by Jonathan Maus (Publisher/Editor) on January 18th, 2011 at 5:09 pm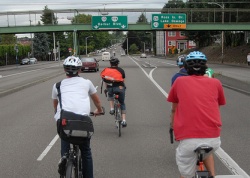 Rolling to Barbur Blvd.
(Photo © J. Maus)
We're excited to announced our first Get Together of 2011.
Next Wednesday (January 26th) from 5:30 to 7ish we'll meet up with readers and other bike-interested folks at Macadam's Bar and Grill (5833 SW Macadam Avenue). If you live, ride, or work in or around Southwest Portland, you're welcome to join us!

There's a lot to talk about in Southwest. Top on the list will be an update on efforts to tame SW Barbur Blvd, which was the sight of a tragic fatality late last year. We'll also talk about other current and future bikeway projects in the area, share local knowledge about routes, hear from transportation experts and grassroots activists, and much more.
Everyone that shows up will be entered into a drawing to win some great frame pumps, fenders, multi-tools and other goodies from our Get Together sponsor SKS. Get Togethers are free, informal gatherings where everyone is welcome. Please help us spread the word and we look forward to seeing you there!
Note: This is the first of our 12 monthly Get Togethers planned for 2011. We're coming to a neighborhood near you soon. Stay tuned for a full list of dates (last Wednesdays of the month) and locations…
Jonathan Maus is BikePortland's editor, publisher and founder. Contact him at @jonathan_maus on Twitter, via email at maus.jonathan@gmail.com, or phone/text at 503-706-8804. Also, if you read and appreciate this site, please become a supporter.