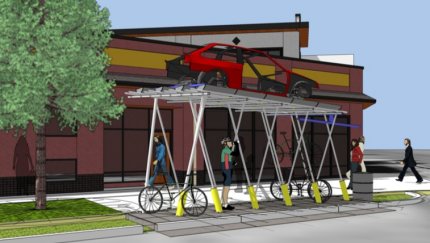 A new bike corral slated for N Dekum Street near Breakside Brewery.
(Renderings by Buster Simpson/
BusterSimpson.net/dekum
)
North Portland's Woodlawn neighborhood is set to get a new bike corral that will also serve as public art and a stormwater catcher. The new bike parking structure will be installed near Breakside Brewery on NE Dekum Street.
This is why a new parking structure
is needed outside Breakside Brewery.
According to notes from a recent Woodlawn neighborhood meeting where BES and PBOT came to discuss the project, the corral, dubbed "Dekumconstruction" will feature an ecoroof and the design will be something of a commentary on bicycles and cars. Plans (see drawings) call for the design to feature a partially desconstructed car sitting atop empty oil barrels as well as several painting on and around the structure. With stormwater retention in mind, the corral will also come with planted bioswales on both sides. There will be parking for 10-12 bicycles.
The Dekum Stormwater Art Bike Corral project (its official name) is a collaboration between the City's Bureau of Environmental Services, the Bureau of Transportation, the Regional Arts and Culture Council, and neighborhood residents. Artists on the project are Peg Bulter and Buster Simpson.
Here's another rendering by Simpson…
Money to pay for the project is coming from a mix of EPA grants, BES stormwater treatment funds, and public art funds administered by RACC. The corral is scheduled to be installed by this spring.