"If implemented, this project could cause significant potential harm to soils, water, and wildlife."
— From letter signed by members of Restore Mt. Hood Coalition
"This will attract more riders to Oregon, increasing tourism dollars in the area. This list of benefits goes on and on… the impact will be minimal."
— Michael Whitesel, member of Northwest Trail Alliance
As I reported back in April, Timberline Lodge on Mt. Hood is making a serious bid to build a mountain bike trail and skills park that would rival Whistler Mountain Bike Park in Canada. And, given Whister's phenomenal success, that's saying something.
The US Forest Service has officially opened the 30-day comment period for Timberline's proposal (as part of the required Environmental Assessment) and already advocates on both sides are making their positions known. The project would add about 15 miles of new mountain bike trails — from beginner to expert single track — and a skills park. The 7-8 acre park would also come with a new chairlift, a full-time trail care crew, and an emphasis on sustainable trail design.
Here's a detail of the newly released map of proposed trails: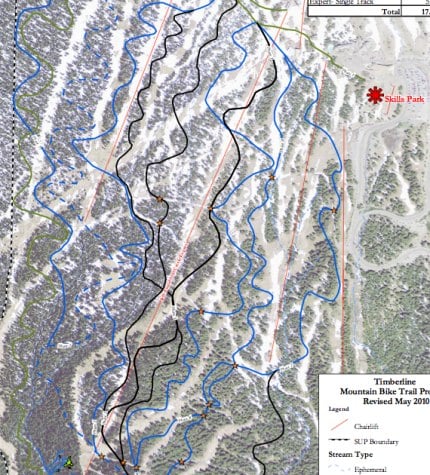 Detail of proposed Mt. Hood Mountain Bike Park trails map (
PDF here
)
According to the Zig Zag Ranger District's official scope of work, the purpose of the project is "to meet the growing demand of year round recreation and development of new summer recreation activities." The proposal notes that,
"Oregon is considered the mountain biking capital of the Northwest and more people per capita have bicycles in Portland than any other city in the country. However, there are few Oregon ski areas that offer full-service, lift-assisted mountain biking for all ability levels."
According to the proposal, "mountain biking" is listed as a "Desired Future Condition" of the Mt. Hood National Forest Land and Resource Management Plan.
Trails at Whister's Bike Park.
(Photo: Brian Finestone)
However, as with any development of forest land for recreational use, there are differences of opinions about the merits of this project and advocacy groups from both sides of the issue are mobilizing their members to weigh in.
The Friends of Mt. Hood feel that a bike park is "incompatible" with Mt. Hood. A board member of that group wrote a guest column in The Oregonian warning that the project would negatively impact the experience of visitors to the historic Timberline Lodge and would result in a loss of habitat and forest land.
Another group in opposition is Bark. Bark is leading the Restore Mt. Hood campaign and has joined with the Friends of Mt. Hood, Portland Audubon, and the NW Environmental Defense center in opposing the project.
In a letter sent to Mt. Hood National Forest Supervisor Gary Larsen back in April (when Timberline's plans were first made public), Bark's staff attorney Lori Ann Burd shared a number of concerns. She criticized the consultants hired by Timberline Lodge to build the park for not involving "key stakeholders" in the early stages of designing the proposal. Burd also thinks that Timberline Lodge is an "inappropriate destination" for a network of "extreme mountain bike trails" and says, if implemented, the project "could cause significant potential harm to soils, water, and wildlife."
Burd recently told The Oregonian that the type of biking that would occur at the park would be "a niche extreme activity" and that the Forest Service should focus more on cross-country trails for "mountain bikers who want longer day trips" instead. (One source close to the issue found it ironic that Bark would support cross-country trails, given that the group was instrumental in removing over 300 miles of existing mountain bike trails when new wilderness designations were expanded a few years ago.)
The Portland-based Northwest Trail Alliance is also urging members to send in comments to the Forest Service. They feel the project would serve a "huge and unmet need" for this type of facility in the region, that it would provide a family-friendly outdoor activity, and that it would be an economic boon to the local economy. Another point being made by the NWTA is that a controlled and managed facility like this is preferable over having it be "scattered throughout the Mt. Hood National Forest."
The comment period is open until July 30th. You can read more about the project via the links below. Send your comments to comments-pacificnorthwest-mthood-zigzag@fs.fed.us
– Official USDA project website (with links to scope of work proposal and map).
– Mountain Biking at Timberline Lodge
– Bark's action page
– Friends of Mt. Hood
– Northwest Trail Alliance