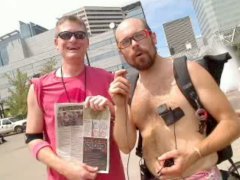 Reporter – Dan Kaufman
Ride Date – Wednesday, June 23, 2010
Ride Description
Ride Report
Wednesday's show/ride met at the Lincoln Statue at the South Park Blocks combined with the Farmer's Mkt Ride. The "in the flesh" riders were Rev Phil, Cranky Jay, Sherry, Coach Dan, Ron Richings, Scott (Farmer's Mkt Ride leader), Kirsten Kaufman (aka bikerealtor), Lucas, Aidan & Arthur Kaufman, Claire, Jordan, Greg Wandering Yeti, Bob, Eric, Hillary and Myself. Virtual riders were Bob, Coach Dan, Scott Mizee, Jenny, Jen, Steve, Andy, and about 3500 other lurkers.
The weather was awesome. We headed down to salmon street springs, then over to Vera and then check out the Naked Bike ride start point to make sure it was clean (it was), then we headed back to Vera, we turned off the camera and then headed to the Peoples Market Street Party and then over to the Sprockettes Dance Party Field Day ride.
Here are links to (some of) the very raw (and sometimes rough) footage. It does not include the corresponding chat room text.
http://www.stickam.com/viewMedia.do?mId=188965821 (Dan hosts – Special guests Kirsten, and Scott)
http://www.stickam.com/viewMedia.do?mId=188966333 (Rev Phil and Dan host – Special guests Ron, Coach Dan,)
Thanks to everybody who made it such a bike fun day!