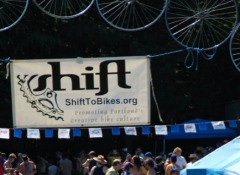 (Photo © J. Maus)
We're excited to announce Get Your Shift Together, our latest social gathering that will feature some awesome folks from Portland's (in)famous grassroots bike group, Shift.
This Thursday (5/27), join us at Plan B (1305 SE 8th Ave) to learn more about what Shift does, how you can get involved (they need help!) — and most importantly — get the lowdown on the huge plans for bike fun Shift is cooking up for June. Yes, I'm talking about Pedalpalooza, that crazy 17 days of bike madness has well over 200 events already, including the world famous Naked Bike Ride, a kickoff parade, and of course the Multnomah County Bike Fair.
It all somehow magically comes together each year because a small, core group of people volunteer to make sure it does. They could use some help and it'd be great to find a few new faces to be a part it all.
We'll meet at Plan B* enjoy some food and drinks, hear from some wise Shift elders, and generally have fun talking about how we can have more fun (on our bikes) in June. As luck would have it, there are some live bands starting up at 8:00. Hope you'll join us!
*Plan B is 21 and over.
If you have questions or feedback about this site or my work, feel free to contact me at @jonathan_maus on Twitter, via email at maus.jonathan@gmail.com, or phone/text at 503-706-8804. Also, if you read and appreciate this site, please become a supporter.