– Stories and photos by Jennifer Clunie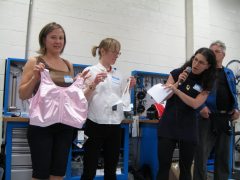 Susan Otcenas (in black), President of Team Estrogen,
demonstrates cycling attire intended
support women of all shapes and sizes.
In a field still often dominated by male interests and pursuits, women are coming together to stake their claim in Portland's $90 million a year bicycle industry. Last night, approximately 150 people gathered at United Bicycle Institute for Bike Economics a forum showcasing women-owned, bicycle-related businesses based right here in Portland.
Serving as both an educational sampling of local commerce and a valuable networking opportunity, co-organizers Elly Blue and Ellee Thalheimer planned the event as a fundraiser for the newly created Women in Active Transportation Scholarship Fund. Proceeds from the event will be used as seed money to grant scholarships encouraging women to toe-up to the starting line and take their (rightful) place at the head of the peloton in the active transportation movement.
"With the under-representation of women in the bicycle industry, opportunities to network with one another are precious… We can all learn from one another."
— Susan Otcenas, Team Estrogen
Twenty featured presenters, from frame builders to bike shop proprietors to those selling everything from homes to cookies by bike, issued one-minute "elevator speeches" explaining both their business and inspiration for its existence.
Representing a tapestry as colorful and varied as the Portland itself, self-employed, single staff operations still in their lean early years stood rank-and-file with established veterans with a decade or more of savvy business expertise. Despite the differences in their respective tills, several presenters expressed the same desire for connection and community that led them to participate in this event.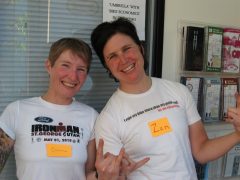 Best t-shirt of the night: "I ride my bike
more than my girlfriend—but she still loves me."
"With the under-representation of women in the bicycle industry, opportunities to network with one another are precious," states Susan Otcenas, President of Team Estrogen, an online retailer of women's bike gear and clothing. "We can all learn from one another."
Amidst clinks and chatter, presenters were able to intersperse their stories with one-on-one personal dialogues with attendees and fellow presenters. Custom wheel-builder Jude Kirstein, owner of Epic Wheelworks proudly announced, "I create revolutions in my studio every day." Approaching the one-year anniversary of her business launch, she has yet to draw a paycheck—but remains passionately committed to promoting sustainable practices and keeping women rolling.
Surprisingly, a fair number of these one-woman businesses chose not to invest in media campaigns or substantial print advertising, but rely heavily on word-of-mouth. The Cycling Salon, which offers bike fitting, personal shopping, and courses in bike repair and maintenance, is by appointment only and targets the 45-plus crowd who may not have ridden in 15-20 years and might be otherwise intimidated by a bike shop. With the mission of "empowering women to improve their health, fitness and well-being through cycling," co-owner Audrey Block told the crowd, "We'd love to see your mothers."
Empowerment, encouragement and equipping women to have more confidence on their bikes were high notes struck multiple times throughout the evening.
Dana Hinger of Queen Bee Creations.
"Women are more likely to continue riding if they are comfortable in their own skin, comfortable on their bikes, and comfortable in their apparel," states Otcenas. It was this same determination — to help women find a bike that is both comfortable and fun to ride — that prompted Natalie Ramsland and her husband to invest their wedding funds into frame-building equipment and a blowtorch. And thus, Sweetpea Bicycles was born, with the mission to "honor the connection between a woman and her bike."
Ramsland described the bicycle culture in the city which gave this line birth as "robust and surprising," with an individuality that enables Portlanders to claim "all reasons to get on the bike as part of the life you're already living, rather than a discrete act."
Offering both the Love Line and the Lust Line — with a new top-secret variant coming out later this summer only to be described as "timely" — Sweetpea Bicycles intends at "stopping nothing short of total niche domination." If what I experienced last night is any indicator, they'll have both some serious competition and a flourishing environment for the women's bicycle market.
— Learn more about this event and the new scholarship it helped kickstart at the Bike Economics website.