Posted by Jonathan Maus (Publisher/Editor) on May 4th, 2010 at 1:40 pm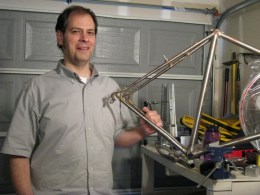 Roland Couture wants to start the Portland
Framebuilder Club as a resource for
new and existing builders.
(Photo courtesy Roland Couture)
A local graduate of United Bicycle Institute's frame building school plans to start a club that will help builders pool resources and have a better chance at success.
Roland Couture is a 41 year-old, self-described "…tinkerer, lifetime cyclist, and musician smart enough to have an engineering degree, but with a persistent and nagging desire to actually make things by hand."
Couture's vision for the Portland Framebuilder Club (he's bought the domain name but is still working on the site) is a to create an informal network where builders could come together, learn from each other, and more.

Couture hopes to someday collect dues and pool finances so that fledgling builders could afford expensive tools, share shop space (a "club shop" he calls it) where members could schedule work time, get volume discounts on materials, and host professional development seminars and clinics.
Nine builders have already expressed interested in becoming members and Couture says he hopes to add more names to his list the coming weeks. Couture is aware of the existing Oregon Bicycle Constructors Association — a non-profit organization that has builders from throughout the state and puts on a major annual bike show — but says the scope of his club would be "more local and more hands-on." He also points out that established builders would also be welcome to join. "It should be pretty awesome for lots of folks whether framebuilding is 'just a hobby' or a professional aspiration."
For more information, contact Roland Couture at rjc2[at]hevanet[dot]com.
Jonathan Maus is BikePortland's editor, publisher and founder. Contact him at @jonathan_maus on Twitter or via email at maus.jonathan@gmail.com or phone at 503-706-8804 (texts ok).