For a first-year event, there's a lot of buzz in the bike scene about The Bicycle Show, which is coming to the Oregon Convention Center this weekend (and I'm not saying that because they're an advertiser).
Aaron McBride with Pedal Nation events has packed the schedule with all sorts of cool stuff. He's also got over 100 bike companies and organizations signed up to display there wares. And it's a diverse lot too: Attendees will get to kick the tires of e-bikes, cargo bikes, road bikes, mountain bikes and all the latest gear and parts you can imagine.
Familiar bike brands you'll see include Co-Motion, Marin Bikes, Shimano, Kona Bikes, Rocky Mountain Bicycles, Brompton, Bianchi and others.
But shiny bikes and bike parts are far from the only reason to check out this show.
The cerebral cyclist will enjoy the list of speakers on the schedule. Set to share their knowledge and insights are bike adventurer Willie Weir; author, planner, and advocate Mia Birk; author Joe "Metal Cowboy" Kurmaskie; PBOT bicycle program veteran Jeff Smith; family biking expert Martina Fahrner; D.L Byron of BikeHugger.com, and others.
And if that's not enough, there's a long list of entertainment to keep you occupied. There will be gold sprints (a.k.a. roller races), a fashion show, a "Kid Zone," and a dual stunt race just to name a few.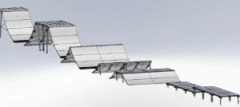 Drawing of dual stunt racing course.
Also at the show will be several special sections you won't want to miss: The Pimp'd Bike Area will feature crazy and cool bikes submitted by backyard tinkerers and customizers; the Oregon Bicycle Constructors Association (OBCA) will showcase handmade bikes from their members, including rigs from Metrofiets, Quixote Cycles, Ahearne Cycles, and others; and the BikePortland BikeCraft area will feature some special locally-made goodness.
McBride says he's already pre-sold 2,400 tickets (they were free until a few days ago, but now they're $7 at the door — kids under 12 are still free).
The Bicycle Show opens on Saturday (4/10) at 10:00 am and runs to 6:00 pm. Sunday hours are 10:00 am to 5:00 pm. Stay tuned for more coverage and in the mean time check out all the details at PedalNationEvents.com.
Contact Jonathan at @jonathan_maus on Twitter, via email at maus.jonathan@gmail.com, or phone/text at 503-706-8804. Also, if you read and appreciate this site, please become a supporter.