Did this lock belong to Tyler Brady?
(Photos by Dan Schafer)
Several local media outlets are reporting that the autopsy results of 22-year old Tyler Brady showed that he died of an accidental drowning. Brady was reported missing on February 27th, was last seen riding his bicycle in Southeast Portland, and his body was found in the Willamette River near OMSI yesterday.
The news of Brady's accidental death came as I was working on a story speculating about the same scenario — that he accidentally fell into the river and drowned. This speculation began with a comment left yesterday on this site that bicycle matching the description of Brady's had been locked to a tree just upriver from where his body was found.

This morning, I spoke to the author of that comment, Dan Schafer. Schafer also sent me several photos from an area just south of OMSI (map) where he thinks Brady locked up his bike. Schafer said he commutes on the Esplanade through that location every day and about a month ago (Brady was last seen on February 17th), he noticed a bike locked to a tree adjacent to and on the eastern side of the path:
"I ride through there every morning, and there was a bike locked to an oak tree that just wasn't right. I watched it every morning."
Schafer says the scene "made no sense" because no one ever locks bikes up there. He also said the bike he saw was a black single-speed and that it took about two weeks before the bike began to get parted out by thieves. It eventually disappeared completely, leaving only the lock in its place (see photo).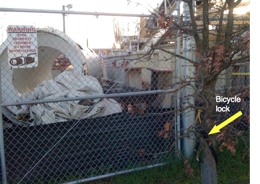 Note the security surveillance
warning sign in the upper left.
"It was obviously a bike someone cared about."
Schafer also noted that there was a foot trail leading down to the river right across from where the bike was locked up. There's also a sign on a fence near the lock (see upper left in photo) stating that the area is monitored by video surveillance.
Surveillance photo of Brady.
The location of the lock and the sign is near a small bridge that goes over the trail. The location of the bike and the lock also give weight to speculation that it belonged to Brady. The Portland Mercury reported last week that the last place Brady was seen was a bar in NW Portland called Tube, where he was refused service for being drunk. Brady was living at SE 11th and Division, which makes this part of the river one of the closest access points from his house.
Before hearing the autopsy results, Schafer speculated that perhaps Brady stopped along the Esplanade on his way home from the bar (or, after dropping some stuff off at his house and going back out for some fresh air), then wandered down the trail to the river's edge, hit his head on something, and fell in.
I've left messages with the Police Bureau throughout the day but have yet to hear back. Hopefully they can view the surveillance video (if it exists) and check out the area near the bridge closely for clues (shoe tracks on the trail perhaps?).
Regardless, this is a tragic story. If indeed this was where Brady was last alive on the earth, perhaps it's a fitting location for a memorial. My heart goes out to his family and friends.