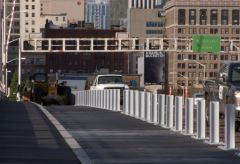 Bikes will soon have a lane of their own on the Morrison Bridge.
-Slideshow below-
(Photos: Adams Carroll for BikePortland)
The Morrison Bridge project is getting ever so close to completion. Once complete, it will have a separated lane for two-way bicycle traffic and a completely new ramp down to Water Avenue on the east side.
We noticed significant progress on the markings and the pathway construction so we sent out our new ace photographer/reporter/intern Adams Carroll out this morning to take a closer look.
Adams was able to get up onto the lift-span in the center of the bridge to bring you photos of the new material being used on the lift-span (concrete would be too heavy). Also in the slideshow below, you'll get an excellent feeling for how it might feel to ride on the new pathway.

According to Multnomah County spokesman Mike Pullen, the path was supposed to open in mid-December. But, as of this morning, he's heard that it might be delayed a bit (we'll keep you posted). In addition, the County says they're working on a video they help will explain exactly how to ride across the bridge (this development alone raises some red flags for us — shouldn't it be intuitive enough to not need a video?).
advertisement
Because the new path has two-way traffic and is only on one side of the bridge, it could present some interesting challenges and conflict points if it's not clearly understood where to ride.
For example, Pullen says westbound bike traffic will be sent down the cloverleaf ramp to Naito Blvd instead of continuing onto Alder which is one-way in the opposite direction. If our calculations are correct, that means westbound bike traffic would have to cross over eastbound bike traffic at some point. It will be interesting how/if this and other potential conflict points will be worked out.
For more photos and captions, watch the slideshow below (and welcome new BikePortland intern Adams Carroll!):