Posted by Jonathan Maus (Publisher/Editor) on November 2nd, 2009 at 2:03 pm
Screen grab from ImagineJumptown.com.
The Portland Trail Blazers have released their vision of the Rose Quarter's future. On ImagineJumptown.com they lay out ideas to create "a world-class mixed-use sports and entertainment district in one of Portland's most vibrant neighborhoods."

The Blazers are already giving a nod to the transportation component of their vision. Saying the project will "better connect the area with adjacent neighborhoods" they also specifically call out how they'll make the area more bicycle-friendly. Here's the key excerpt from their "Fast Facts" page:
JumpTown will accommodate biking:

JumpTown will provide enhanced amenities for cyclists, including added bike parking and an improved bike corridor to and from the Esplanade to the Vancouver/Williams couplet. Each day, more than 10,000 cyclists travel this route, and the northbound section east of the Rose Quarter needs improvement for cyclists. JumpTown's vision is to make a district with world-class green amenities, including thoughtful accommodation of Portland's thriving bike culture.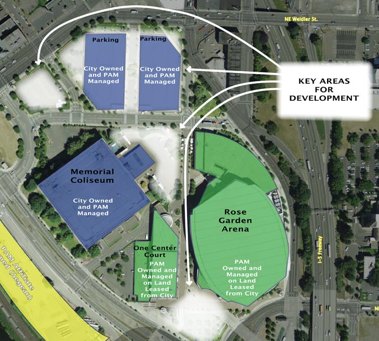 (Map: PDC)
Whatever happens with the Rose Quarter (Blazers are just one group who will submit a proposal), the transportation component will loom large over the project. Currently, even with recent improvements through TriMet's transit center, the area presents bike traffic challenges because it's smack-dab between downtown and several neighborhoods with very high rates of bicycle usage.
We've also reported on hopes from track racing enthusiasts that the redevelopment might include a new velodrome.
The City's effort to determine the future for Memorial Coliseum is heating up. According to City of Portland Planning and Sustainability Policy Advisory Amy Ruiz, they plan to launch an open call for concepts on the project later this afternoon. In January they'll host a public presentation of a short-list of the best ideas. From those, 3-5 ideas will be recommended to City Council who will then pick their favorites (could be all of them) and ask for a more in-depth proposal.
Stay tuned to this project at RoseQuarterDevelopment.org and ImagineJumptown.com.