Posted by Jonathan Maus (Publisher/Editor) on October 26th, 2009 at 10:11 am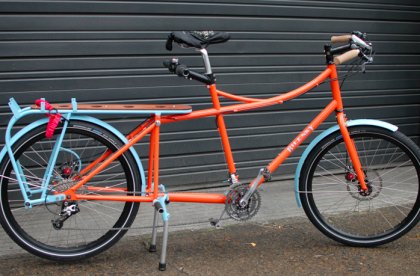 The Bilenky Chuckwagon.
-Slideshow below/
Gallery
–
(Photos © J. Maus)
As I made my way to the Oregon Manifest Family Bicycle Transportation event yesterday, a beautiful, human-powered vehicle caught my eye. Upon further inspection, I learned it was a "Chuckwagon" cargo bike handmade by Bilenky Cycle Works from Philadelphia, Pennsylvania.
The owner of this gorgeous bike is Portland-based food writer and Momentum Magazine contributor Matt Card. Card has two kids (Rohan, 5, and Judah, 11 months) who he plans on carting around on the back deck. Card is no stranger to handmade bikes, he's got about five of them (and another on order). "We're a custom bike household," he said yesterday, "I love the aesthetics, and I also believe in supporting U.S. made bikes."
Matt Card appreciates fine, U.S. made bicycles.
Card's Chuckwagon is a stunning mix of form and function. The lines and the paint are gorgeous, and it also "rides great… like a regular bike" according to Card. It's also got a high utility quotient. The rear rack is narrower than an Xtracycle deck. Card likes that because it's easier to straddle with little legs. The rack has also been custom-welded to accept the popular Topeak removable child seat.
The rear rack is removable.
Builder Stephen Bilenky, who I spoke to from his shop this morning, says the key to the Chuckwagon is that the rear rack is removable. "It's a frame and rack system. The idea is that the rack is removable, but it's not held on by 5mm bolts… it's got two, really solid, 8mm bolts at the junction." Bilenky said that some folks use the Chuckwagon as a touring rig and with the removable rack and couplers, it can be easily shipped.
The Chuckwagon comes three sizes (small, medium and large) and the rear end of the bike is universal. This semi-production approach means the Bilenky shop (which has five full-time welders) can turnaround an order in 4-8 weeks (including custom paint, which is done in-house).
A complete bike sells for $2,800 and the frame/rack combo is $1,750. More photos in the slideshow below:

Jonathan Maus is BikePortland's editor, publisher and founder. Contact him at @jonathan_maus on Twitter, via email at maus.jonathan@gmail.com, or phone/text at 503-706-8804. Also, if you read and appreciate this site, please become a supporter.