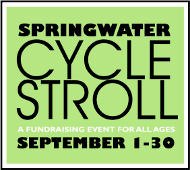 The Bicycle Transportation Alliance isn't the only local non-profit encouraging Portlanders to go by bike in the month of September. The BTA's Bike Commute Challenge started yesterday, but so did the Springwater Cycle Stroll.
The Cycle Stroll is organized by the Johnson Creek Watershed Council. The event allows registered participants to track their miles ridden (or walked, rollerbladed, etc…) on the Springwater Trail for the month of September (the popular trail runs along Johnson Creek for many miles). The money raised will support the JCWC's restoration, education and outreach programs.
advertisement
According to the event website, participants collect pledges from family and friends on a per-mile or flat donations basis. Similar to the Bike Commute Challenge, there will be prizes and bragging rights for who the person who bikes the most bikes and raises the most money.
With both events running simultaneously, we're wondering… is anyone out there doing both? It'd be like getting double frequent flyer miles.
If you have questions or feedback about this site or my work, feel free to contact me at @jonathan_maus on Twitter, via email at maus.jonathan@gmail.com, or phone/text at 503-706-8804. Also, if you read and appreciate this site, please become a supporter.