Portland is a bike town. Sure, it's not Copenhagen or Amsterdam (yet), but increasingly, when people come here they want to "Do as the Romans do" — and in Portland that means get on a bike.
But if you don't have friends in town that can set you up with a bike, and you don't want to pay the going rate for a used one (which some feel is way too expensive), renting is an excellent option.
Here at BikePortland, we get a steady stream of inquiries about where the best bike rental shops are. So, we finally decided to try and get a good, solid list together. Below is a list of shops in Portland that rent bikes and a bit of information about them.
---
Clever Cycles (908 SE Hawthorne)
(Photo © J. Maus)
Located conveniently just a few blocks east of the Hawthorne Bridge, Clever Cycles is the place to go if you need to rent a bakfiets cargo bike, a high-quality (Brompton) folder, or even an Xtracycle or well-made Dutch city bike.

Rates
Bakfiets (front-loading cargo bike): $7/hr, $35/day or $75 for three days.
Brompton (folding bike): $7/hr, $35/day or $75 for three days
More info
If you buy a bike like you've rented at time of return, they will waive the rental fee. Call them for current availability – (503) 334-1560 or go online for more info.
---
Waterfront Bicycles (10 SW Ash Street, #100)
Waterfront Bicycles started as a rental-only business. They've now moved closer to downtown and are a full-service shop in addition to having a full fleet of rental bikes available. They rent everything from cruisers to tandems and even stuff for kids like trail-a-bikes.
Rates
Hybrid bike*: $9/hr, $17 for 2 hrs, $23 for 3 hrs, $28 for 1/2 day, $35 for full day, $40 for 24 hrs, $100/wk
*Rates vary for other types of bikes
More info
All rentals include a helmet, lock, and bicycle bag. Reservations can be made by calling (503) 227-1719 or by filling out an online form. Check out their website for more details.
---
UPDATE, 6/7/12: Citybikes no longer offers rentals
Citybikes Coop (1914 SE Ankeny)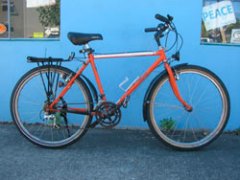 One of the bikes in the Citybikes fleet.
Citybikes has a fleet of hybrid bicycles available for rent.
Rates
$20 for 1/2 day (returned same day before closing), $35 for 1 day, $45 for 2 days, $55 for 3 days ($10 per day for each additional day).
More info
Citybikes advises that you call (503) 239-0553 ahead of time to check availability, especially in the summer months. All bikes come with rear racks, fenders, and generator lights. Locks, helmets, and maps are also available at no additional charge. More info online.
---
Veloce Bicycles (3202 SE Hawthorne)
Veloce is the place to go if you need a nice, race-quality road bike.
Rates
Masi Vincere (avail. in 51, 53, 56, 58, 60cm): $80 for 3 days, $150 for 7 days
Masi 3VC 105 (avail. in 54, 56, 58cm): $80 for 3 days, $150 for 7 days
More info
Veloce also rents a hardcase for traveling with their rental bikes for $50/week. More info online.
---
Kerr Bikes/Wheel Fun Rentals (1020 SW Naito Parkway)
Located right in Waterfront Park, just south of Salmon Street Fountain, Wheel Fun rents out a wide range of pedal-powered vehicles — from 8-seater surreys to standard road bikes and tandems.
Rates
Prices vary. Check out full price list here.
More info
Wheel Fun is run by Kerr Bikes and all profits go toward the Albertina Kerr Centers a 100-year old nonprofit agency supporting youth and families with mental health challenges and children and adults with developmental disabilities. More info at KerrBikes.org.
---
Everybody's Bike Rentals (305 NE Wygant St.)
Conveniently located one block South West of Alberta and MLK in NE Portland, Everybody's Bike Rentals rents vintage 80s and 90s mid-level American and Japanese road and commuter bikes that come with a lock, lights, helmet and bike map.
Rates
Commuter: $25/Day $60/3 Days $90/Week $245/month
Road Bike: $30/Day $75/3 Days $110/Week $295/month
It's best to call 24hrs in advance if you need anything specific. (503) 358-0152 Website
---
Cycle Portland Bike Tours and Rentals (117 NW 2nd Ave)
Offering a wide selection of single speed, modern hybrid, and road bikes for rent. Located downtown next to the car-free waterfront bike path. All rentals include helmets, locks, and if you rent overnight, lights. Free Portland bike maps available along with expert route advice. This company also offers guided sightseeing tours around Portland for those who would like an experienced leader to take them on a ride.
Rates
Single-speed bikes: $5 /hour $20 /day $50 /three day $80 /week
Multi-speed hybrid bikes: $10 /hour $20 /day $75 /three day $100 per week
Road bikes: $15 /hour $35 /day $85 /three day $120 /week
More info: Rental and tour reservations available on line. Please contact info@portlandbicycletours.com with any questions or check out PortlandBicycleTours.com.
---
Pedal Bike Tours (133 SW 2nd Ave.)
Pedal Bike Tours offers a wide range of bikes for rent, including kid trailers, and kid bikes. This company is also known for its excellent guided tours. Tours are just a few bucks more than the rental price and if you go on a tour, you can rent the bike for just $18 for 24 hours (1/2 off regular rental fee).
Rates
City bike: $9/hr, $27 for 4 hrs, $36 for 24 hrs, $90/week
*Rates vary for other bikes
More info
All rentals include a helmet and a lock. Reservations can be made online. See their website for full details.
---
Fat Tire Farm
Fat Tire is a legendary off-road shop. Situated right near Forest Parks roads and trails, they are also the perfect place to rent a mountain bike. They have a standard mountain bike with a front shock, and a full-suspension model available for rent.
Rates
Giant XTC 2: Flat rate for up to 24 hours, $40
Giant Trance X3 (full-suspension): Flat rate for up to 24 hours, $60.00
More info
They don't take reservations, so it's first come, first served. Check their website for full details.
---
Western Bike Works
Western has a good selection of both high performance road bikes and more city-oriented cruiser/commuter bikes. Check out their website for more info.
---
Riding a bike is a great way to enjoy Portland! If you know of other bike rental resources in the Metro area, please contact us or share more info in the comments below.