A new residential bike parking shelter on SE Washington near Laurelhurst Park.
(Photos © J. Maus)

We've closely documented the City of Portland's efforts to create new bike parking in business districts — but what about bike parking in residential areas? A Southeast Portland couple wondered the same thing, and now their home boasts the city's first ever, open-to-the-public, residential bike parking shelter.
The project not only creates a new community amenity, it also brings up a question that more and more Portlanders are having these days: As the number of people riding bikes in Portland continues to skyrocket, does the City of Portland have a policy in place to increase bike parking in single-family residential neighborhoods? We'll get to that later.
Three years ago, Jane Clugston and Phillip Johnson — who live in an old house at the corner of SE 37th and Washington near Laurelhurst Park — had an idea. They are hobbyist puppeteers who regularly do free shows from their garage (featured recently in The Oregonian). After a few shows, they noticed that all the people that showed up on bikes had nowhere to park. They'd lock to trees, sign poles, porch railings, and so on.
Phillip Johnson
Clugston and Johnson had worked with local non-profit group, City Repair to help build their puppet stage so they approached them again to think about installing staple racks on their median strip. At first it was going to be just the racks, but then the idea for a roof surfaced.
"Those damn Linden trees," said Johnson as I chatted with him about the project this morning, "they are very messy. Lots of pollen in the spring, residue in summer, and leaves in the fall. We figured it'd be better to cover the bikes."
In April of 2008, City Repair filed a project permit with the City of Portland. 13 months later, with permit (finally) in hand, City Repair's Mark Lakeman and a team of volunteers finished the project in three days earlier this month.
The new shelter features four staple racks and, as with all of City Repair's projects, it was built with nearly all recycled or scrap materials. The roof shingles are locally harvested cedar and much of the concrete is recycled.
Made with love by City Repair.
Johnson says engineering requirements made the final design "a lot less appealingly funky" than he had hoped, but he's pleased nonetheless. He said they've still got to paint the metal staples (they'll be purple, to match his house) and they'll need to cure for 2-3 weeks before it will be ready for use (a party is planned once it's done, we'll keep you posted on that).
This new shelter comes at a time when many Portland residents want more bike parking capacity near their homes (I have two emails asking about this from just the past week or so).
A rack on SE Salmon.
Cars park all over neighborhoods, with free parking along nearly every block in town. But there's no equitable accommodation for bicycles. Take a ride through any neighborhood and you'll see bikes parked to porches, trees, telephone poles, sign posts, and so on. This raises some questions: Does the City have a residential bike parking policy? Can bikes legally use the same street space as cars use? Does the City have a set policy for installing staple racks in front of houses?
I put those questions to Sarah Figliozzi, who's in charge of bike parking for the City's Bureau of Transportation.
Figliozzi said cars can park on residential streets, not because the City is actively accommodating the practice (they don't, for instance, build a new parking lot if someone has a lot of parties), but because that's just how roads happen to be built and cars just so happen to be able to park securely without any additional "furnishings" (that's what planners call bike racks, bus benches, etc…).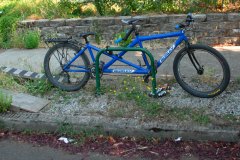 Another residential rack in Southeast.
Why not just put staples on the street, like PBOT does with their bike corrals? According to Figliozzi, it has to do with short vs. long-term parking, and how the staples would be used. Figliozzi says the bike corrals are for parking a bike for two hours or less and they're placed in areas with a high demand. In single-family residential areas, the demand is not concentrated at a particular location, and residents prefer to have bikes locked inside a garage or in their homes for security. She also noted that they've found short term parking has to be 50 feet or less from a destination in order to be effective.
For bikes, the median strip between the curb and the sidewalk, is the preferred place to park. Figliozzi said upkeep of medians is the homeowner's responsibility, but the City owns the property; "The City would encourage residents to install racks on their private property or purchase a rack and apply for a permit to install it in the furnishing zone [median]."
The permit will set you back about $30 and Figliozzi says there are other limitations you should be aware of; like maintaining a six-foot pedestrian clearance and specific set-back distances from the curbline.
Figliozzi added that racks can only be installed into concrete (no grass or dirt) and you'll have to pour it yourself, because the City doesn't have a budget for residential installations.
So, what if someone locked their bike to itself and parked it in the street? Would that be legal? According to City of Portland Parking Enforcement Division Manager Nolan Mackrill, bicycles are not allowed to be parked on the street. That space, he says, is only for motorized and licensed vehicles. If someone wants to park their bike on the street, they would need to reserve the space and go through the permit process.
As for the bike parking shelter, City Repair hopes it's just the first of many.