Tour de France viewing parties, like this one
at the Lucky Lab in 2007, can be
found all over Portland.
(Photo © J. Maus)
With six stages down and 15 to go, the Tour de France is just getting warmed up.
For some reason this year, the race is already exciting and the action hasn't even hit the mountains. A guy named Lance has a lot to do with the buzz, but the bottom line is that more people than ever seem to be tuning in.
And what's not to love about this race? Amazing scenery, athletes at the top of their form, the highest of high-tech bikes and equipment, team rivalries and gossip, sprint finishes, and much more.
So, how can you catch the action? Whether you prefer to catch it on your phone, your TV, or at your favorite cafe or pub with a group of rowdy fans, here are some suggestions.
advertisement
TDF Blog's updates on Twitter.
Twitter
This is the first year that Twitter has played a big role in how people follow the Tour. I've been following @TDFBlog, @BikeHugger, and @HeidiSwift for a good mix of live updates and commentary. If you're hardcore, try following a search for "#tdf" or "#tourdefrance".
Another great thing about Twitter is that you can get updates directly from racers. @LanceArmstrong posts consistently and has fun videos and photos. Many of the riders are on Twitter this year. For more, check out the lists here and here.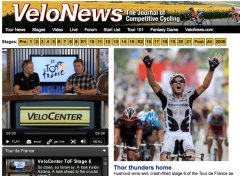 Screenshot from VeloNews.com
Blogs/Online
If you haven't starting using Twitter yet, there are a million places online where you can get your Tour fix. D.L. Byron of BikeHugger has a dedicated Tour "Hub" this year (which includes a live chat feature during stages) and both VeloNews.com and CyclingNews.com have full coverage with loads of photos and reports.
Also online are the many sites (most not quite legal) running free, streaming feeds. I started watching it live on Justin.TV but that feed got pulled. I've also heard of a Pakistani-based site that some folks are having good luck with.
Good Old-Fashioned Television
Versus is the exclusive TV channel for the Tour this year. Check out their schedule here and hopefully you won't be the victim of those pesky, last second commercial breaks.
Local cafes, pubs, etc…
Laurelwood Brewing Company
Laurelwood will be showing the Tour at three locations; NE 51st and Sandy, NE 4th and Sandy, and NW 23rd and Kearny. As an added incentive, the owner will donate money to the Lance Armstrong Foundation for every customer who comes into any one of his establishments during the entire month of July.
La Musette Dining Club
This is simply awesome: Portlanders Fred Lifton and his wife — professional chef Laura Ohm — have created a special, Tour de France-themed supper club. With the race on a big screen TV, they serve a six-course dinner that comes complete with traditional dishes, and wines and cheeses selected from the regions through which the Tour passes on that day's stage.
To make it even better, each night Fred and Laura award a "Plat Jeaune" (Yellow Plate) to the person who rides the furthest that day. Learn more about La Musette Dining Club on their website. (Fred says spots are still available for July 11th and 25th).
Saint Honore Bakery
St. Honore (2335 NW Thurman and 315 1st St in Lake Oswego) has been showing the Tour live for several years now (I wrote about them way back in 2005). The authentic French bakery is a perfect setting to watch the race and bike jerseys are the preferred attire.
And, thanks to Heidi Swift at the Everyday Athlete Blog for the following tips…
Madison's Bar and Grill
Madison's (1109 SE Madison St) is showing replays of the Tour and Heidi says they've got a great selection of Oregon-brewed beers (and they'll give you your first pine for $2 if you mention her name).
Costello's Travel Caffe (2222 NE Broadway)
Cafe Umbria (303 NW 12th Ave)
Are you following the Tour? How are you getting your fix? Share viewing suggestions in the comments.