Posted by Elly Blue (Columnist) on June 13th, 2009 at 4:18 pm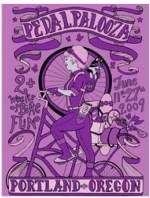 [Welcome to your daily Pedalpalooza rundown. We'll post each day's events and rides here, so you can plan, email them to your friends, etc…
See all our Pedalpalooza coverage here and follow the latest updates on Twitter.
Click ride title for full details… have fun out there!]

---
9:30am: Lents Bicycle Boulevard Ride
Wonk out about improving bikeways in outer Southeast. Meets at Kelly Elementary, 9030 SE Cooper St.
10:30am – 1:30pm: The Joy of Sects Ride
Join the Bike Temple for a tour of Portland's diversity of religious organizations, "from Apostle to Zen." Representatives of each faith will questions. Followed by libation and discussion. Meet at Col. Summers Park, SE 20th and Belmont.
10:30am: New Shanghai Bike-aneers Pirate Ride
Kid-friendly piratical cruise down the Fanno Creek Trail out on the west side. Meet at Garden Home Rec Center, 7475 SW Oleson Rd, Beaverton
10:30am: Gay Bike Parade
Get decked out and meet at NW Park and Flanders to parade with pride!
11:00am – 1:00pm: Go Local
Whose State Representative has the most bike fun? SE Portland's of course. Meet up for a ride around local points of interest with bike commuting Rep. Jules Bailey at Sunnyside Environmental School, 3421 SE Salmon.
11:30: City Repair Site Tour
Check out a selection of the intersections and public spaces that City Repair has painted and cobbed up over the years. Meet at New Day School Annex, 1847 SE Clinton St
Noon – 2:00pm: Portland Parks Tour
Liked/missed the Portland City Tour (our report) on Friday? Join Portland Bicycle Tours again today for a free tour of various parks around town. Meet in Waterfront Park by Davis Street.
Noon: Bad Monkey Anniversary Ride — Vancouver
First anniversary celebration of a local bike/skate shop on the north side of the river. Stick around for the Fat Tire Cruzer Ride that leaves at 4pm.
Bad Monkey Bikes Board & Skate, 1717 Broadway St (at McLoughlin), Vancouver, Washington
1:00pm: Freak-Bike Alley Cat
Meet in Ladd's Circle. Must have a freakbike to compete.
2:00pm – 4:00pm: Grant Petersen-style Ride
"Bring your lugged-steel, tweed, shellac, cork, and francophile tires… a rolling bike show with plenty of interesting discussion." Meet at Peninsula Park Rose Garden, N Ainsworth and Albina.
2:30pm: Bike Polo
Every Sunday in Alberta Park.
3:00pm: Splash Dance IV
By now, Splash Dance is an iconic Pedalpalooza ride. Ride around with a mobile sound system, dancing in fountains. Check out our photos from a few years ago to get a taste of what you're in for. Meet at Salmon Springs Fountain.
3:00pm: Ride Against the Columbia River Crossing
Concerned citizens, get on your bikes and join another roving dance party to protest the 12 lane CRC expansion. Ends at a secret action. Family friendly. Meet at the fountain in Peninsula Park, N Ainsworth and Alberta.
4:00pm: I Heart Photobooths Ride
Ride around, get your picture made. Meet at Backspace, 115 NW 5th.
4:00pm: Fat Tire Cruzer Ride
Cruise around the Couv. Bad Monkey Bikes Board and Skate, Broadway and McLoughlin, Vancouver
6:30pm: Hands-free Derby
An obstacle course for the brazen and talented. Picnickers welcome. Overlook Park, N Interstate Ave and Fremont St
9:00pm: Zoobomb!
Every Sunday. You know the routine. Meet at the new Pyle, ride the MAX to the zoo, and bomb down.
---
Please note that two of Sunday's rides — the Surprise Bike Wedding and the Homeless Hotspots Ride — have been canceled by the organizer. Also, the Tour de Goats ride is full to capacity.