Posted on June 29th, 2009 at 3:54 pm.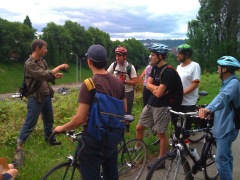 Professor Badass expounds on
local geologic mysteries.
(Photo by J.R.)
I ditched work on Thursday to familiarize myself with the Land of Port a bit better by joining up with fifteen other people on bikes and Dr. #1 Badass (planetary geology professor) at the Washington Park Zoo MAX stop.
The four and a half hour tour began by reviewing the excellent MAX station display of a drill core sampled during construction of the Red Line. Its corresponding timeline set the framework for our understanding of the geologic development unique to this region and foreshadowed the stops we would make later in the afternoon.[Read more…]