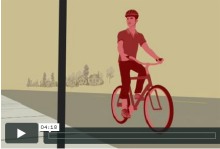 Screen grab from animation
about bikes, stop signs, and the
Idaho Stop Law by Spencer
Boomhower.
Watch it below.
Lots of stop sign news at BikePortland headquarters today.
I spent my morning out at SE Water and Caruthers where city crews recently removed two stop signs that were deemed unnecessary, I just got off the phone with Traffic Division Lieutenant Bryan Parman about an "enforcement mission" (a.k.a. sting) at a stop sign on SE Clinton this morning, and I have been planning an update on the BTA's Idaho Stop legislation.
advertisement
Before I get to all those stories, I wanted to share an very cool animation created by Portlander Spencer Boomhower (you might remember him from an article he wrote for BikePortland last month). When he's not thinking or writing about bikes, Spencer is a freelance computer graphics artist. He masterfully put those skills to use in a video he titled, Bicycles, Rolling Stops, and the Idaho Stop.
Watch it below:

Spencer says he hopes the video makes its way to legislators in Salem who are still pondering the Idaho Stop Law.
…speaking of which… stay tuned for updates on that and all your local stop sign news…