Posted by Ellee Thalheimer (Contributor) on February 11th, 2009 at 12:57 pm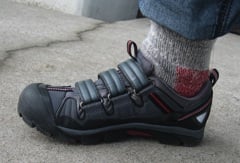 The Keen Springwater
(Photos: Ellee Thalheimer)
[Editor's note: This product review is by BikePortland contributor Ellee Thalheimer. We asked Ellee to review Portland-based Keen Footwear's new cycling shoe, named after a Portland cycling landmark. For those unfamiliar with cycling shoe technology, there isn't much out there on the web, but here's a basic explanation. ]

---
Portland's love affair with Keen shoes just went to the next level.
The company has come out with a new cleated cycling shoe, the Springwater ($130). No, it's not another version of the sandal cycling shoe for which Keen is famous. It's a closed-toe, commuter shoe that has all the accoutrements of the beloved Keen shoe but with the support and features of a cycling shoe.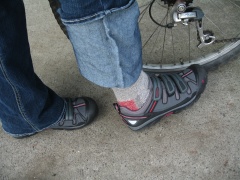 Cycling apparel companies have thrown a cleated commuter shoe or two into the mix before. But it's always seemed like an afterthought, and has never really spoken to serious commuters in need of a non-fugly shoe both good for walking and cycling. The impracticality of cycling shoe-ness always seems to shine through the companies' stab at "street wear."

advertisement
Within the last couple of years, companies like Pearl Izumi have finally caught on a bit to this under-courted demographic. But the cleated, around town bike shoe is still a rarity.
Enter those masters of public desire at Keen. Their Springwater cycling shoe displays the company's signature chubby, space-age, outdoor comfort style. Yet it also has a firm sole to support pedal strokes, full length SPD compatible plates, and TPU cleat cap plates. The mesh lining is designed to wick moisture and the 3 Velcro straps make it easy and adjustable, which is especially good for those with narrow feet.
The Springwater provides a comfortable ride, no doubt. They aren't for the longest treks, though I would totally sport them on a spin out to Sauvie's Island to pick berries in the late summer. They are absolutely perfect for a commuter running errands, for riding about on the weekends, to wear to a casual business lunch, and for the daily jaunt over the Hawthorne Bridge.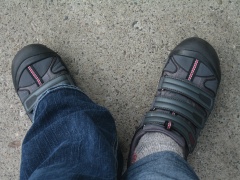 Keen's style is generally not my own, and I was a bit concerned at first over the geriatric-nurse-goes-bike-commuter feel to the shoes: comfortable, stubby, efficient, and very Velcro.
"They aren't geriatric!" exclaimed Lucy Burningham, a stylish local writer. "They're cute!"
Considering Lucy's opinion, I decided to make sure BikePortland readers got a well-rounded style points assessment of these shoes in the face of my personal bias. So I went straight to the bellwether of Portland style, to hipdom itself: Stumptown on Belmont.
Here's what Stumptowners said:
"I'd wear them," commented Aaron Schmitt, local cyclo-cross racer and poster child for the division of hip Portland mountain men.
"They look like they would be worn in this town" contemplated a man in line donning a retro hounds tooth jacket, "They're cool, actually. Definitely potential."
"They look great to wear on a field trip to Mount Tabor," opined one stylishly clad gal.
Her friend, sporting a cute, off-center cap, chimed in, "They could be cute if you put them in the right context: black leggings and a short black cycling skirt would definitely work."
So there you have it. Portland approves. After wearing them for a couple of weeks, I can say I approve too. There's really comfy. After years of resistance, I guess I'm on the Keen bandwagon.