Before heading out for lunch with Livable Streets Network editor Sarah Goodyear, we took a couple of quick detours to check out some of the more interesting livable streets initiatives in the West Village.
The Hudson River Greenway is an all-too-rare example of separated bike and pedestrian paths. The white sign in the center left reads "No Pedestrians on Bike Path." There's a nice wide walkway right by the water, well separated by landscaping.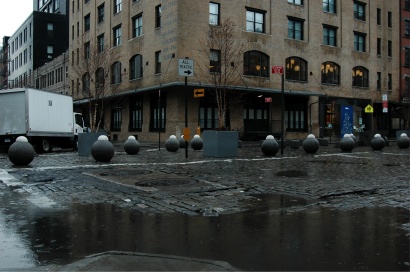 New York already has good bones as a city built around walking. And a new wave of livable streets activists, advocates, and public officials — including Janette Sadik-Khan, the city's transportation commissioner — have been making a major impact in the last year alone with infrastructure investments like these. And there are no signs of this progress slowing down any time soon.