Posted by Elly Blue (Columnist) on November 7th, 2008 at 1:00 pm
This is my most comfortable winter
biking outfit: wool tights, a wool
skirt, and a wool top.
(Photo � J. Maus)
As the urban cycling revolution continues, more people than ever are using bikes to take their kids to school, haul groceries, or go out for a night on the the town.
Thankfully, a quick scan of fashion in the bike lane reveals that the percentage of performance-minded clothing you see out there has declined.
Synthetic apparel, while awesome for some pursuits, isn't always comfortable, classy, or good for the environment. Synthetics can also be expensive and they're not always very durable. Cotton quickly becomes soggy if it's raining or hot, and polyesters are a nightmare.
"The secret to dressing well outdoors is to focus more on keeping warm than on staying dry."
Many who are new to cycling are hitting the streets in whatever clothes they've got (others are getting seriously fashionable). But when you transition from the car-and-umbrella lifestyle to one that involves zooming through all manner of weather on your bike, a few minor adjustments to your wardrobe can make all the difference.
A good jacket and fenders are essential for keeping the worst of the water off; but there's only so much you (and the scientists behind high tech synthetics) can do.
From Portland-based
Wabi Woolens ($140).
The sad truth is that you are going to get wet no matter what, from rain or from sweat. And as walkers and backpackers have known for centuries, the secret to dressing well outdoors is to focus more on keeping warm than on staying dry.
So what's the answer? Wool.
Wool keeps you warm, even when it's wet. It's comfortable. It's breathable. It sheds water. It's a natural fiber. It's durable. It's not necessarily expensive, and sometimes very cheap.
Your best resource for wool gear is probably your own closet (I know you've got an old sweater in there somewhere!). Your next best resource is your local thrift store. Second hand wool slacks, skirts, and sweaters that are nice enough to wear to a meeting or party are the staples of my winter wardrobe.
Some things, though, you have to buy new.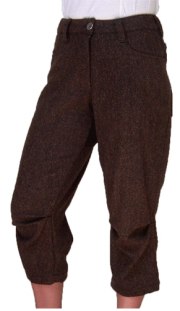 Wool britches by Sheila Moon ($149).
It's been a pleasure to see wool knee-length knickers cropping up around town. Sheila Moon (from San Francisco) has some great looking "riding britches" (she makes them for guys too), and a jacket and hats which look good enough to wear off the bike.
Speaking of great-looking, no talk of wool would be complete with mentioning the fabulous caps Portland's very own Shaun Deller.
Another Portland-based purveyor of fine wool cycling apparel is Wabi Woolens. I've yet to try anything from them, but I've heard nothing but rave reviews (BikePortland.org profiled Wabi Woolens back in February).
Like your thrift store finds, these pieces are dry clean only. That's sort of a pain, but wool is sturdy; if you care for them right, they'll last for years.
There are also a lot of washable wool products available that cut down on the itch factor as well as dry cleaning bills and hassle.
I recently invested in some SmartWool tights, and wear them every day. If you're shopping around, you might also check out the cotton lined wool tights available at local sock emporium Sock Dreams.
Wool socks are a lifesaver on wet winter days, and they make a fine alternative to plastic booties. Remember, your feet may get wet, but they'll stay warm.
For washable wools with a social conscience, check out Icebreaker, which recently opened a retail store in downtown Portland across the street from Powell's, and Ibex, whose products are sold locally at Clever Cycles. Both Icebreaker and Ibex use merino wool from New Zealand and offer everything from hats to underwear (and thankfully, both seem fairly zealous about their sourcing).
The folks at Clever Cycles, who really know about this stuff, are hosting Wool Night tonight (Friday, November 7th from 5:30 – 7pm), offering discounts on most of their Ibex stock, a woolens raffle, and a generally festive atmosphere.
Have you joined the wool revolution? What are your likes/dislikes about this marvelous material?
---
Here's a list of the companies mentioned in the article:
— Wabi Woolens
— Sheila Moon
— Deller Designs
— Smartwool
— Icebreaker
— Sock Dreams
— Ibex