Here are two tales of bike thefts that didn't go quite as planned.
The first, sent in by a reader named Armando, comes from an all-too familiar spot — the loggia of the Portland Building. Here's a photo of the suspect:
A pensive, pre-pilfering look.
I've covered theft in this location two times before (here and here).
This time, according to security officials at the Portland Building, the man above was attempting to steal a bike light last Friday (10/24). When confronted by security, he ran off — leaving both the light and his own bike behind (don't feel bad, it probably wasn't really his).
This next one is so brazen it's funny. A reader named Arne sent me this cell phone photo: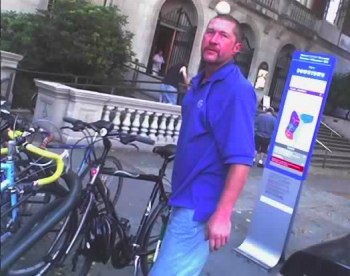 Excuse me sir, are those wire cutters?
Arne's email said he/she "thought this picture was too awesome not to share". Apparently this guy was working through a 3/4-inch cable lock with wire cutters in broad daylight in front of the Downtown Library.
"Since I happen to sympathize with bike owners more than people stealing them, I had to interrupt".
"Since I happen to sympathize with bike owners more than people stealing them," Arne wrote, "I had to interrupt". Arne reports that once the thief noticed someone had snapped a clear picture of his face (from a safe distance of course), he stopped.
And the would-be victim? He came out of the library, was told what happened, and rode directly to a shop to buy a U-lock.
[Update: By the way, does anyone else think these two perps might in fact be the same guy?]
These stories are are kind of funny, but losing your bike to a thief is anything but. I realize the Stolen Bike Listings here on BikePortland.org have been broken for nearly a year now (you can still list your bike on Finetoothcog.com, but it doesn't appear on BikePortland), but they'll be up and running very soon (trust me!).
I'll also have some very exciting news to report soon from the Portland Police Bureau. I had a great meeting with Sergeant Troy King from their property crimes unit yesterday. They're finally rolling out an electronic theft reporting system (it's in beta right now; report and screenshots coming soon) that will lead to many more bikes being recovered.
We also talked about a potential new "Bike Theft Detective" volunteer program. It's just a brainstorm idea at this point, but stay tuned for more on that and other bike theft news.