Several of these billboards (this one is on SE Grand just south of Belmont) have sprouted up around Portland.
(Photo © J. Maus)
Over the weekend, I noticed several new "Share the Road" billboards throughout the city. So far, I've seen them on NE Grand just south of Belmont, on W. Burnside at about 20th, and on N. Interstate at Killingsworth.
As you can see from the photo above, even though the message is simple (and a bit trite in my opinion), the design works because the colors command attention and graphic succeeds in cutting through the urban landscape. I also appreciate how the bicycle is prominently featured and (whether the designers realized it or not) the design highlights a dangerous road condition — sun glare.
I was surprised to see these billboards, because I haven't heard a peep about them from my usual list of sources.
Upon closer inspection of the sign, I noticed the words "Portland Spirit" in the lower right-hand corner. My immediate thought was of the Portland Spirit cruise boats that work in the Willamette River. That would have been strange however, because the Portland Spirit is owned by Wayne Kingsley, an arch nemesis of the City of Portland who is fighting a bike/ped trail through a parcel he owns just south of OMSI on the Eastbank Esplanade (see the "SK Northwest" case).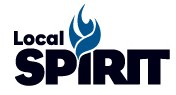 Upon even closer inspection (the corner of the billboard was wrinkled up), I noticed "Cle" in a font similar to Clear Channel. Since the billboard is owned by Clear Channel Outdoor, I figured this campaign was their doing. I recently reported on a fledgling traffic safety campaign effort by Clear Channel, but that has not materialized.
Finally, I determined that these billboards are indeed the work of Clear Channel. It seems they are part of their "Local Spirit" program. Here's how Clear Channel describes that program:
"…Because of our deep involvement and connection to local communities, we're able to make philanthropic decisions that have the greatest impact on local neighborhoods. Whether it's in support of children's hospitals and shelters, food banks, educational programs, healthcare, cultural enhancement or a myriad of other issues important to local communities, Clear Channel's Local Spirit shines through."
No word yet on how long the billboards will be up. I'm awaiting a few call backs.
Have you seen these? What do you think?