Photo from the scene at SE 7th and Alder
last night.
(Photo: Ian Stude)
A Portland man says he was tackled, pushed off his bike, and then tasered repeatedly by a Portland Police officer in Southeast Portland last night.
The Portland Police Bureau, in a written statement about the incident, say that Phil Sano (a.k.a. "Rev Phil") did not have a front light on his bicycle and that he refused to stop when officers requested.
The incident occurred around 9:30pm on SE 7th Street, just north of SE Morrison Ave. Phil Sano says he was riding along and felt cold, so he went to zip up his jacket. Then, in an email he sent me just hours after the incident, he wrote,
"Across the street a man in all black shouted at me and started walking my way. I stopped pedaling, but didn't stop because my hands were not on my brakes. He then sprinted, lunged and tackled me. I then scuffled to separate him and stood apart from him in a defensive position."
Then, Sano says, he was tasered several times.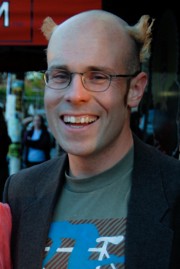 Phil Sano in April 2008.
(Photo © J. Maus)
"I felt a sharp sting in my back and heard a repetitive clicking. I turned around to see that I was being tasered!"
At that point, Sano maintains he still did not know what was going on and he repeatedly asked the officers to explain what he had done wrong. At that point, Sano says two officers were holding him down and he could still feel the taser charge flowing into his back.
"I was still freaked out and yelled again, why are you shooting me?"
Sano says the cops yelled for him to "get down", but that he still had no idea who was accosting him. He wrote, "It was pretty dark and they were wearing all black without any sort of shiny badge…. They looked kinda' like cops, but generally cops do not tackle bikers unless it is Critical Mass."
According to Sano, he was tasered "point blank" in the chest and the lower back and that he began to "spasm out of control as the surge of electricity involuntarily constricted" his muscles.
"…the cop took two steps after him, grabbed him by the shirt, yanked him off the bike, ran hum up the sidewalk and slammed him against the wall and then right away started tasing him."
–Diana Spartis (she witnessed the entire incident)
After pleading repeatedly for them to stop, Sano says they continued and that, "without question, I could tell they enjoyed seeing me become so helpless, so weak. It was humiliating."
Once the tasering stopped, Sano said he laid in a small puddle of his own urine, breathing irregularly and "seething with rage".
"I can still feel their knee on my neck as I write this, but even then I knew they were in the wrong… really, really fucking wrong." He added, "There was no cause for such violence; I was not harming anyone and I made sure that everyone within earshot knew it."
Sano says that all the while, a barb from the taser remained lodged in his chest. Luckily, he remembers, a passing ambulance heard him screaming, stopped on the scene, and removed the electrode from his chest. Sano says that the EMT, "was very concerned" that his speeding heart rate would not slow down.
Once everything calmed down, Sano says the cops told him that he was stopped because he didn't have a front light.
Sano admits he didn't have his front light on his bike, because someone had stolen the cradle it attaches to. He says the cops found his light in his fannypack a few minutes later.
According to Sano's recollection of the incident, he heard Officer Smith say, "You should have stopped when I told you to. Then none of this would be necessary."
A written statement just released by the Portland Police Bureau's Public Information Officer Brian Schmautz says that the officers were in uniform and were dealing with another woman and had "turned on their lights to alert traffic while they talked to her."*
Then, writes Schmautz, they saw Sano roll by without a light and, "One of the officers told Sano to stop, but Sano ignored him." Here is the rest of Schmautz's statement:
A photo of where one of the
tasers entered Sano's body.
(Photo courtesy Phil Sano)
"The officer, then reached out to stop Sano and they began to struggle. Sano refused to comply with any of the officers orders and continued to resist until additional officers arrived. The officers attempted to Taser Sano, but it was ineffective because of Sano's clothing.

Sano was eventually arrested and taken to jail. Sano apparently admitted he had been drinking, but was not given field sobriety tests because the officers were not arresting him for DUII. FYI, the officers checked Sano's history and learned that the Police Bureau had given Sano a warning for a bike light and a free bike light in the past."
_________
Diana Spartis, a 28 year-old Sellwood resident, was being cited for not having a light on her bike when the incident took place. On the phone with me this morning, she said Officer Smith was telling her about the importance of having a light when Sano rode by on the other side of the street.
Spartis says the Officer noticed Sano also didn't have a front light then yelled at him to stop. She then told me, "He [Sano] didn't stop immediately, and the cop took two steps after him, grabbed him by the shirt, yanked him off the bike, ran him up the sidewalk and slammed him against the wall and then right away started tasing him."
Sartis recollects that she was "maybe 50 feet away" and says, "I did not see him [Sano] do anything physical to the cops… he wasn't cooperating fully, but he also wasn't doing anything that should have provoked them that much. He was screaming, 'no! no!, why are you doing this?'"
_________
The two officers involved in the incident were Officers Erin Smith and Ron Hoesly. Both are members of the Traffic Division.
I have no knowledge of Officer Smith other than this report from a Critical Mass ride back in February of 2005.
Officer Hoesly is a motorcycle cop. Back in August of 2006 I joined Officer Hoesly for a ride-along. I frequently see Hoesly around town and he is always friendly and congenial.
Hoesly and Smith initially charged Sano with Resisting Arrest, Attempted Escape III, and Disorderly Conduct. He was also cited for not having a front light (ORS 815.280) and Failure to Obey a Police Officer (ORS 811.535).
(UPDATED*) At his arraignment at the Justice Center in downtown Portland a few hours ago, Sano says the clerk told him he had been given a "no-charge". *According to a source who is a lawyer that means (for whatever reason) the case is not going forward, but the charges can brought back to life at a later date. My source says this could be an indication that either the police or the DA's office didn't think they could prove, or didn't want to try to prove, the charges.
This isn't the first time Sano has had run-in with the police. During the 2006 World Naked Bike Ride, Sano was involved in an altercation with an off-duty police officer who was the passenger in a motor vehicle that was being held up during the ride. Sano alleged that the vehicle's driver tried to run him over.
In that case, Sano was charged with several misdemeanors (including Criminal Mischief and Disorderly Conduct) and faced 2 1/2 years in jail. The case was ultimately dismissed and Sano was set free.**
(This incident is being discussed on the Zoobomb Forum and in the Portland Bike Forums.)
========
(*Note: I added a part of the Police statement that mentioned the Officer's vehicle lights being on several hours after I initially posted the story.
**I added information about Sano's Naked Ride trial at 10:23pm on Wednesday night.
UPDATE: The Oregonian has quoted another Police spokesperson as saying they didn't taser Sano until he became "combative". Read that story here.