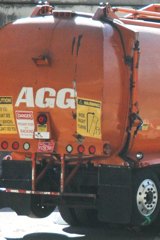 (Photo © J. Maus)
The Oregonian is reporting that the family of Brett Jarolimek has filed a $1.5 million lawsuit against the driver of the garbage truck in the fatal collision back in October.
According to reporter Joseph Rose, the family is, "claiming 40-year-old Bryan Lowes of Oregon City was negligent and should have never been behind the wheel."
Rose also reports that the suit claims Lowes failed to yield the bike lane to Jarolimek and that his truck had a broken mirror that was attached with only a bungee cord (a fact that came out of the DA's investigation).

Here's more from Rose:
"…the complaint says, Portland-based AGG Enterprises shouldn't have allowed Lowe to drive its garbage truck because of past drug convictions and driving violations. AGG is a co-defendant in the suit.

The company "knew or should have known Lowes posed an unreasonable risk of danger to bicyclists, pedestrians and motorists," the suit states."
On October 25, I detailed the troubled past of the truck driver in a story titled, Trucker's problems should lead to reforms.
For more coverage of the Brett Jarolimek tragedy, see my archives.

[Thanks E.S. for the tip.]
If you have questions or feedback about this site or my work, feel free to contact me at @jonathan_maus on Twitter, via email at maus.jonathan@gmail.com, or phone/text at 503-706-8804. Also, if you read and appreciate this site, please become a supporter.