Posted by Jonathan Maus (Publisher/Editor) on June 2nd, 2008 at 9:18 am
In an effort to "create the best park system in the world," Metro is zeroing in on trails.
They've formed a Blue Ribbon Committee of regional leaders who are tasked with figuring out how to fund and develop new trails and connect and improve existing ones. Part of that effort is a series of five Trail Tours.
The first tour in the series is on Wednesday, June 11 and it will focus on the North Portland Greenway Trail (map below).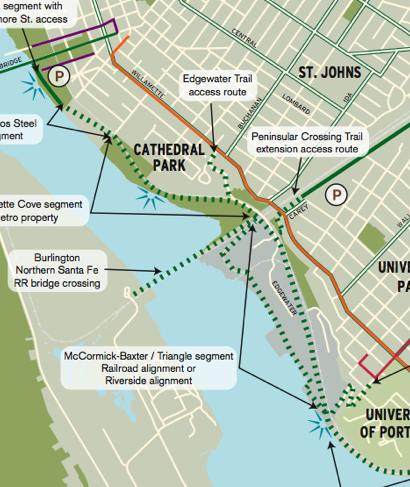 Map of the proposed North Portland Greenway Trail. Learn more at
NPGreenway.org
.
The North Portland Greenway Trail would link St. Johns with the Eastbank Esplanade via a new trail along the Willamette riverfront.
NPGreenway — a non-profit dedicated to making this trail a reality — has made exciting progress since their first meeting back in November of 2005.
Here are more details of the ride:
Connecting Green Trail Tour – North Portland Greenway
Wednesday, June 11
Departing Metro at 4:30 p.m.
To register for this ride, contact Robert Spurlock at 503-797-1803 or robert.spurlock [at] oregonmetro.gov