[UPDATE: 5/16, 10:30am – ODOT has responded. Read full story here.]
"The cyclist-haters out in the Gorge are at it again, spreading tacks across the Historic Columbia River Highway."
–From a BikePortland reader email
With weekend temps promising short-sleeve weather, many Portlanders are planning to head out on their bikes and take in the grand vistas of the Historic Columbia River Highway beyond Troutdale.
Unfortunately, from two reliable reports I've gotten in the past day, some Troutdale and Corbett residents aren't so thrilled about bike season.
In what has become something of a yearly ritual, certain residents along the popular bike route have once again scattered sharp tacks on the shoulder hoping to dampen the cyclists' day with an untimely tire puncture.
This is why the Historic Highway is
so popular to ride on.
(Photo © J. Maus)
I first heard of this phenomenon from Cycle Oregon ride organizers. Most communities are thrilled to have 2,000 cyclists roll through their area, however some Troutdale residents expressed their disdain by throwing tacks in the shoulder — forcing Cycle Oregon volunteers to sweep the entire area before riders went through.
Now, according to two BikePortland readers who ride a lot of longer distance routes in the area, they're at it again.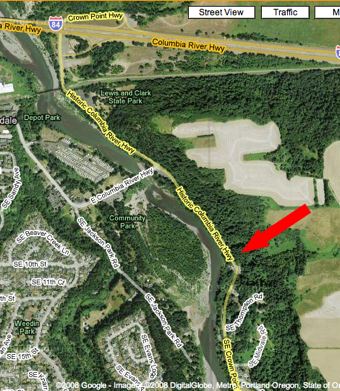 Red arrow marks area where tacks have been thrown into the shoulder.
One reader emailed to say, "the cyclist-haters out in the Gorge are at it again, spreading tacks across the Historic Columbia River Highway – this time around Tad's Chicken & Dumplings – I heard from a friend that he ended up with tacks in both front and back tires, couldn't repair the damage, and ended up having to walk his bike back to Troutdale and take a bus home."
Another reader said there were "lots of tacks on the highway from Troutdale to the Stark Street Bridge," and added that on a recent group ride, they had nine flats on six bikes, and a few other cyclists were repairing tires at the same time.
If you're planning to pedal out to the Gorge via the Historic Highway this weekend, keep an eye out, and bring extra tubes and patch kits (or maybe even a broom).
Contact Jonathan at @jonathan_maus on Twitter, via email at maus.jonathan@gmail.com, or phone/text at 503-706-8804. Also, if you read and appreciate this site, please become a supporter.