Posted by Jonathan Maus (Publisher/Editor) on February 26th, 2008 at 11:07 am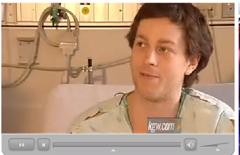 [Via KGW]
Sage Silver was hit by a left-turning car at about 10:00 pm while riding home from work along NE Alberta last Friday (2/22).
The driver stopped to make sure Silver was OK. Silver said he was fine, so the driver left the scene. But the next morning, Silver felt abdominal pains and checked himself into the Emergency Room.
Doctors at Legacy Emanuel informed Silver and his mother that he had internal bleeding in his spleen. Unfortunately, Silver has no health insurance, and he didn't get any information from the driver.
He's asking for help in finding the person who hit him. The only information I have is what I heard on the KGW video: the car is a white "larger American" style sedan with red interior.
If anyone has information, call the Portland Police non-emergency number at (503) 823-3333.
And, for future reference, check out this detailed checklist of what to do if you've been hit.