Posted by Jonathan Maus (Publisher/Editor) on February 22nd, 2008 at 11:17 am
Coming soon to cars near you.
After a mix-up over the initial design led to a temporary halt in sales, Oregon finally has a Share the Road license plate design that all parties can agree on.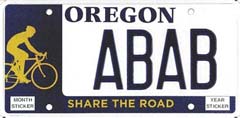 The original design; as interpreted by the DMV.
When the plate was first launched back in January, Steve Sandstrom of Portland-based Sandstrom Design was not satisfied with how the DMV interpreted his design. The disagreement put the plate's design back on the drawing board and left many Oregonians who had ordered the plate in limbo.
After extensive negotiations between Sandstrom, the DMV, Oregon State Senator Floyd Prozanski (the plate's political sponsor), and other backers of the plate, all sides have finally agreed on a design.
From here, the DMV will make a sample of the new design and, after getting final approval from the Oregon State Police, the DMV will once again make the plate available to the public (anyone who currently owns the original design will be sent a new one). Jerry Norquist, the event director for Cycle Oregon and a veteran bike advocate who has worked hard to make this plate a reality, says he expects the new plates to be back online and for sale in 10-14 days.
Norquist hopes the plates are popular, not only because proceeds from sales are split between the Bicycle Transportation Alliance and Cycle Oregon, but if 1,000 of them can be sold in the first 12 months of issue, the DMV will refund the application fee of $10,000.
Visit the DMV website for more information.